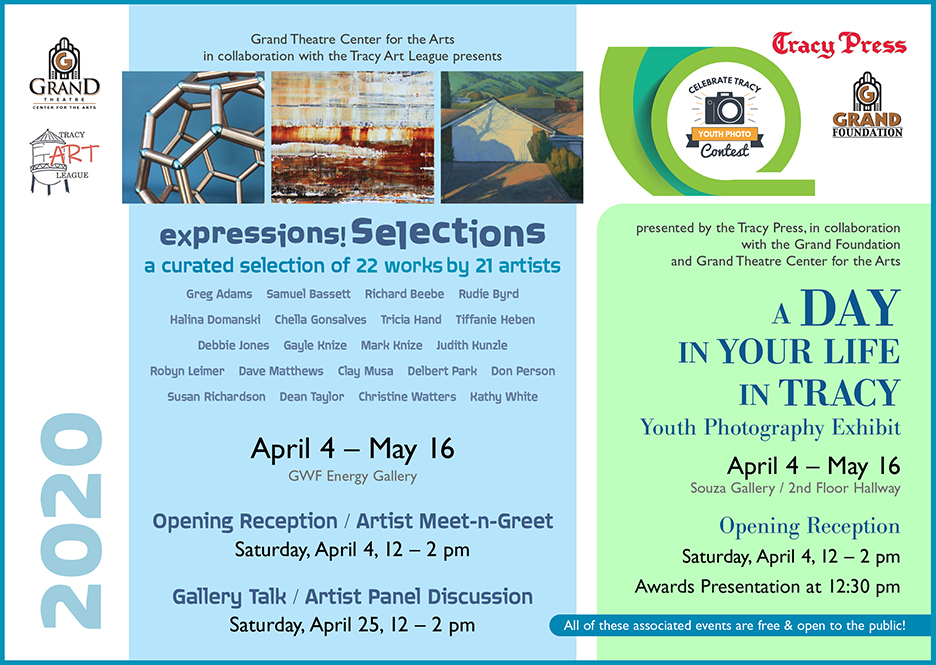 Expressions! Selections is presented in collaboration with the Tracy Art League (TAL) and honors works entered into the TAL's Expressions! exhibit, held annually at the Tracy Community Center. A selection of 22 works by 21 artists on display in the GWF Energy Gallery have been chosen for special recognition in this feature exhibition by William Wilson, Cultural Arts Manager at the Grand Theatre Center for the Arts.
Expressions! Selections artists include: Greg Adams, Samuel Bassett, Richard Beebe, Rudie Byrd, Halina Domanski, Chella Gonsalves, Tricia Hand, Tiffanie Heben, Debbie Jones, Gayle Knize, Mark Knize, Judith Kunzle, Robyn Leimer, Dave Matthews, Clay Musa, Delbert Park, Don Person, Susan Richardson, Dean Taylor, Christine Watters, and Kathy White.
In preparation for the Celebrate Tracy – Youth Photography Exhibit, the Tracy Press asked local youth to show the community "A Day in Your Life in Tracy." Award winners will be featured in the Souza Gallery and entries will be displayed on the 2nd floor of the Center. Awards will be announced during the Opening Reception at 12:30 pm on Saturday, April 4th. Winners will receive cash prizes and be published in the Tracy Press special edition Celebrate Tracy in May. This programming is presented by the Tracy Press in collaboration with the Grand Foundation and Grand Theatre Center for the Arts.