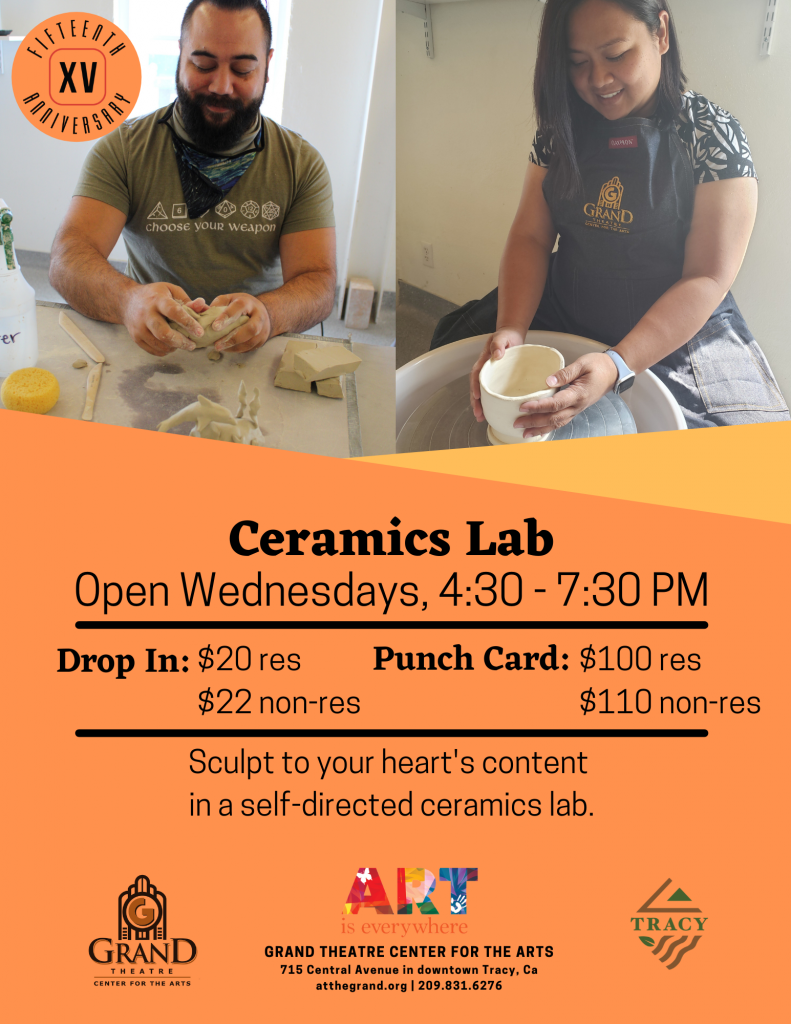 Ceramic Open Lab is offered on Wednesday afternoons from 4:30 to 7:30 pm.
2023 Winter/Spring Open Lab Dates: 3/29, 4/5, 4/12, 4/19, 4/26, 5/3, 5/10, 5/17
2023 Summer Open Lab Dates: 6/7, 6/14, 6/21, 6/28, 7/5, 7/12, 7/19, 7/26, 8/2, 8/9, 8/16    
*No Lab: 5/24, 5/31, 8/23, 8/30, 9/5
Ceramics Lab
Join us Wednesday afternoons 4:30 to 7:30 pm for extra time to practice the skills you are learning in class. Students, both beginning and advanced, currently enrolled in any of our ceramic classes are strongly encouraged to attend lab to enhance their learning experience. Experienced ceramic artists are also welcome. Labs do not include instruction and enrollment in a current ceramic class is not required to attend open lab times.
While attending open lab you will have access to our six electric wheels, a kick wheel, a slab roller and an extruder. You will also have a plethora of tools available for use including trimming tools, metal and wooden rib tools, sponges, stamps, molds and more. You will find that open lab can be a calming and playful experience. 
Cone 5 Glaze List
We have a verity of different glazes to dip your bisque ware and testing tiles to experiment with colors.  The following glazes are available during open lab: Colo

nial White, 

Peach Gloss, True Celadon, Turkish Amber, Dynasty Red,  Mandarin Orange, Black Gloss, Royal Blue, Purple Gloss, Lemon Yellow, and Clear.
Cost
Drop in for one-day lab access is $20 for residents of Tracy and $22 for non-residents.
We offer a punch card at $100 for residents and $110 for non-residents. With your punch card you will have six entries for the price of five. Punch cards do not expire, and you can use them whenever our ceramics open lab is running.
Clay Available for Purchase
Clay is $24.00 plus tax for a twenty-five-pound bag of clay, with or without grog. Recycled clay is $14.00 plus tax for a twenty-five-pound bag of clay. Recycled clay is not always immediately available so please call ahead if you would like to purchase some. 
Ceramics Firings
The Grand is pleased to provide cone 5-6 & 05 electric kiln firing services to the local ceramic arts community. Simply purchase clay through the center, and then make an appointment to bring your unfired projects to our studio. The cost of firings is dependent on the size and amount of work. We will provide you with a finalized price when pieces are ready for pick up. Please note this special service is contingent on our acceptance of materials to be fired; we reserve the right to reject work that includes paper, metal, or unidentified materials. Please contact the Ceramics Technician for more information about ceramic firings and availability.
Ceramics Technician
For more information about our Ceramics Open Lab, Ceramic Classes, and Firing Services, please contact our Ceramics Technician, Abraham Alvarez at abraham.alvarez@cityoftracy.org or (209) 831-6273.