The City of Tracy, Arts Education Program (AEP) will have an Ofrenda (altar) on display in the South Gallery windows at the Grand Theatre Center for the Arts to celebrate Dia de los Muertos (Day of the Dead).  The altar, designed by local artist Gloria Toscano, will be on display beginning at 5:00 pm on Wednesday, October 28 through Wednesday, November 4, 2020.
Gloria Toscano states, "Dia de los Muertos is a Mexican celebration where families gather to honor the memory of deceased loved ones on November 1st and 2nd.  The origins of Dia de los Muertos are rooted in the early traditions of Catholicism and the ancient traditions of the Aztec empire. It is believed that spirits return from the afterlife to enjoy this time in the company of loved ones.  Spirits are guided home to enjoy offerings left on Ofrendas (altars) that are meticulously crafted by the living."
Community members are encouraged to view the altar while practicing safe social distancing from the sidewalks at 715 Central Avenue in downtown Tracy.  The annual altar is created with incredible detail and symbolism, with each item carrying a specific meaning.
Although each altar is extremely personal there are elements that each altar must have:
Levels: Offrendas (altars) can be made up of 2, 3 or 7 levels. Seven (7) levels are the most common in many of the large ofrendas and relates to the seven levels the soul must travel through before reaching heaven.
Incense: Copal (aromatic tree resin) or incense placed on the altar to purify the souls of the dead and ward off evil spirits.
Water: To quench the thirst of the deceased and strengthen them for their return journey.
Calaveras: "Skulls" often made of sugar or chocolate. They are a reminder to mock death and not fear it.
Candles: Symbols of the love for the deceased relatives and guiding lights for the souls.
Flowers: Campazuchitl (marigolds) the flagrant flower is a guild for the spirits into the mortal world.
Salt: A plate of salt is placed on the table to stop the souls of the deceased from being corrupted by earthly temptations.
Food: The deceased favorite food is often placed on the ofrenda along with many other typical foods such as Pan de Muerto, rice, mole, candy, alcohol and fruits.
Paper: Ofrendas are typically decorated with papel picado. Typical colors are yellow, orange and purple representing the union between life and death.
Personal Objects: Personal objects that once belonged to the deceased may be placed on the ofrenda. Common items are toys, eyeglasses, hats, and personal photos of the deceased.
IMAGE: Dia de los Muertos Family Day Ofrenda, 2019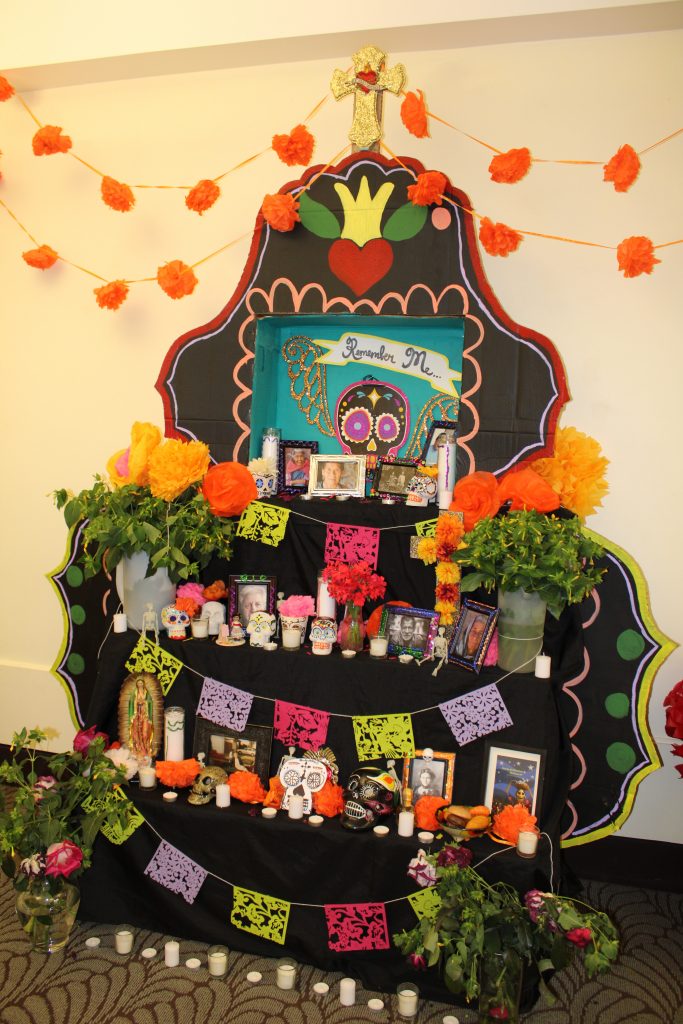 While the Grand Theatre Center for the Arts remains closed to the public due to the COVID-19 pandemic, programming is still being developed and offered for our community.  Click here to learn more about the distance learning classes being offered by the AEP through Zoom.