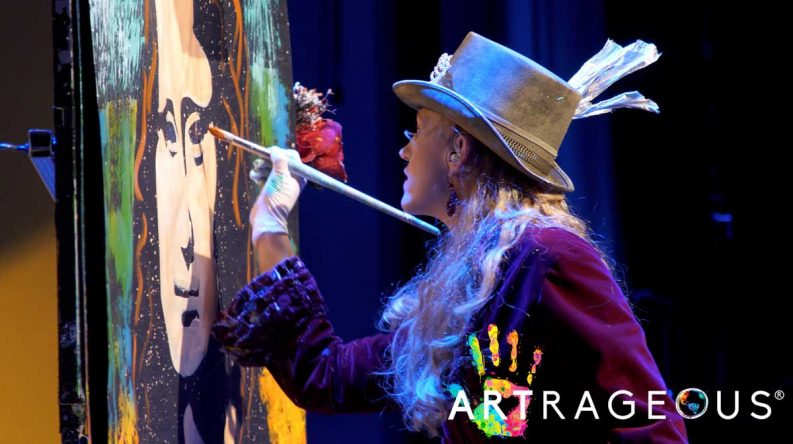 Artrageous
Buy Tickets
---
DATE: FRIDAY, NOVEMBER 4, 2022 AT 7:00PM
Ticket Price(s):  $20-$40 (Additional fees apply)
Seating Chart – Madame Lieutenant Eleni Kounalakis Theatre (EK Theatre)
Join us on a wildly creative, heart-pounding journey for the senses! Experience an indescribable collision of the arts on one stage. This one-of-a-kind show combines live performance painting with original and classical music and remarkable colors that will have you up and out of your seat dancing as the Artrageous Artists race to finish their masterpieces before the last note. Be prepared to get in on the action – share the stage and explore your creativity to go wherever your inspiration leads you!
"Outrageous fun for the entire family!"
PLEASE NOTE: THE CITY OF TRACY (CITY) AND GRAND THEATRE CENTER FOR THE ARTS (GRAND THEATRE) FOLLOW AND COMPLY WITH APPLICABLE FEDERAL, STATE, AND COUNTY PUBLIC HEALTH AND SAFETY GUIDANCE, LAWS, AND PROTOCOLS IN RESPONSE TO THE COVID-19 PANDEMIC. IN THE EVENT A PUBLIC HEALTH ORDER IS PUT INTO EFFECT THAT LIMITS OCCUPANCY OR OPERATIONS, THE CITY AND GRAND THEATRE RESERVE THE RIGHT TO CANCEL OR POSTPONE ANY PERFORMANCE. BY ATTENDING AN EVENT AT A CITY FACILITY, YOU MUST ADHERE TO THE CITY OF TRACY'S HEALTH AND SAFETY STANDARDS (AS POSTED OR PROVIDED) AND VOLUNTARILY ASSUME ALL RISKS RELATED TO EXPOSURE TO COVID-19 (IN ACCORDANCE WITH CALIFORNIA AB 1313 (2020)).
These tickets will go on sale to the public online only Saturday, August 11th at 10am and in person or over the phone starting Monday, August 13th.