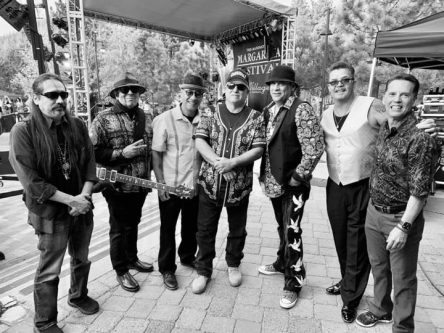 Carnaval with Special Guest Tony Lindsay
Buy Tickets
---
DATE: FRIDAY, FEBRUARY 3, 2023 AT 8:00PM
Ticket Price(s):  $20 (Additional fees apply)
Seating Chart – Madame Lieutenant Governor Eleni Kounalakis Theatre (EK Theatre)
San Francisco's Mission District, the rhythm of the street; the heartbeat of the city; the birth place of the Grammy-Award winning band Santana—and so it is also with CARNAVAL! the premier Santana tribute band. Formerly known as Caravanserai, the band has chosen to carry on since the retirement of their lead guitarist. Now with two new members, they are rebranded as CARNAVAL! these veteran musicians have spent decades bringing you the legendary sounds of Santana. You'll hear all the hits from those early years through the new favorites of today. All of it played with the same instrumentation, soul, and passion. CARNAVAL! faithfully recreates the drive and the sound that has made Santana's music a mainstay in rock music history for the past five decades! ¡VIVE!
PLEASE NOTE: THE CITY OF TRACY (CITY) AND GRAND THEATRE CENTER FOR THE ARTS (GRAND THEATRE) FOLLOW AND COMPLY WITH APPLICABLE FEDERAL, STATE, AND COUNTY PUBLIC HEALTH AND SAFETY GUIDANCE, LAWS, AND PROTOCOLS IN RESPONSE TO THE COVID-19 PANDEMIC. IN THE EVENT A PUBLIC HEALTH ORDER IS PUT INTO EFFECT THAT LIMITS OCCUPANCY OR OPERATIONS, THE CITY AND GRAND THEATRE RESERVE THE RIGHT TO CANCEL OR POSTPONE ANY PERFORMANCE. BY ATTENDING AN EVENT AT A CITY FACILITY, YOU MUST ADHERE TO THE CITY OF TRACY'S HEALTH AND SAFETY STANDARDS (AS POSTED OR PROVIDED) AND VOLUNTARILY ASSUME ALL RISKS RELATED TO EXPOSURE TO COVID-19 (IN ACCORDANCE WITH CALIFORNIA AB 1313 (2020)).
These tickets will go on sale to the public online only Saturday, August 11th at 10am and in person or over the phone starting Monday, August 13th.