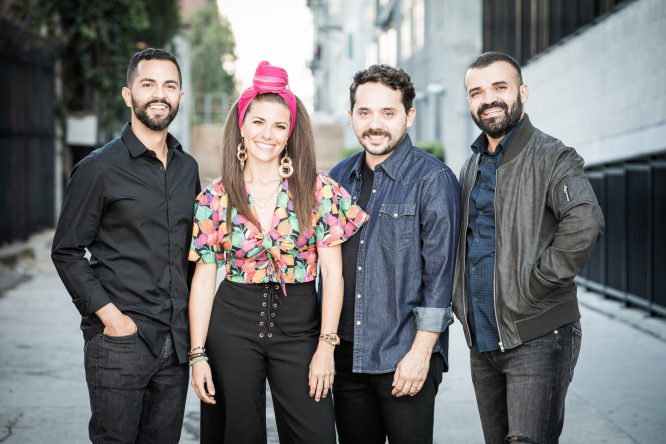 Brazil Beyond Samba featuring Caro Pierotto
Buy Tickets
---
DATE: SATURDAY, JUNE 3, 2023 AT 8:00PM
Ticket Price(s):  $15 – $30 (Additional fees apply)
Seating Chart – Madame Lieutenant Governor Eleni Kounalakis Theatre (EK Theatre)
Winner of the 2020 Prêmio Profissionais da Música "Best MPB Video Award" for Além do Mar and short-listed for the 2018 Latin Grammy ballot "Best World Music Album" for Volta ao Mundo, the Los Angeles-based Caro Pierotto performs originals and covers in Portuguese, Spanish, and English- all backed by her all-star Brazilian band. Whether performing her popular Brazil Beyond Samba show, or her whimsical Bossa Christmas program, Caro's charisma charms audiences worldwide. Her talent for audience connection brings listeners to their feet!
QUOTES
"The expressiveness and technical mastery in Caro Pierotto's voice underscores Brazil's tradition of great female singers – from Sylvia Telles to Gal Costa. The fact that she can also write songs of breathtaking beauty is nothing short of remarkable."
–Ernesto Lechner, Latin Alternative for NPR
"Caro Pierotto is the kind of performer that will get you off your seat and onto the dance floor with her enthusiasm, charisma and vocal abilities."
-Grecco Buratto, Zen Mohawk Records
"Refreshing music with a Brazilian flare, in combination with a unique vintagey voice. Caro is the whole deal, you can feel that music is her thing as soon as you hear her first note."
 -Aaron Byrd, KCRW LA
These tickets will go on sale to the public online only Saturday, August 11th at 10am and in person or over the phone starting Monday, August 13th.