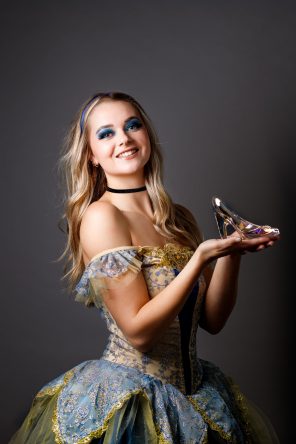 Cinderella
Buy Tickets
---
Co-Presented by Children's Dance Theatre & The Grand Theatre Center for the Arts
DATE: SATURDAY, May 6, 2023 AT 1:00PM & 6:00PM
Ticket Price(s):  $15 – $35; VIP – $50 (Additional fees apply)
Seating Chart – Madame Lieutenant Governor Eleni Kounalakis Theatre (EK Theatre)
Cinderella is a young woman who has been forced to act as a servant in her own home by her domineering stepmother. While dressed in rags, she helps her two awkward and mean stepsisters prepare for a spring ball where, it is rumored, the prince will choose a bride-to-be. Cinderella dreams of dancing at the ball with the prince and escaping from her life of servanthood. With the help of her Fairy Godmother and animal friends, Cinderella is transformed into a beautiful maiden, fit to be a princess. She has only until the stroke of midnight before the magic fades. Will the prince find his true love? The key to their happiness lies within a tiny slipper made of glass. Witness the magic as the cast from Children's Dance Theatre of Tracy dance their way through the retelling of this classic fairytale!
PLEASE NOTE: THE CITY OF TRACY (CITY) AND GRAND THEATRE CENTER FOR THE ARTS (GRAND THEATRE) FOLLOW AND COMPLY WITH APPLICABLE FEDERAL, STATE, AND COUNTY PUBLIC HEALTH AND SAFETY GUIDANCE, LAWS, AND PROTOCOLS IN RESPONSE TO THE COVID-19 PANDEMIC. IN THE EVENT A PUBLIC HEALTH ORDER IS PUT INTO EFFECT THAT LIMITS OCCUPANCY OR OPERATIONS, THE CITY AND GRAND THEATRE RESERVE THE RIGHT TO CANCEL OR POSTPONE ANY PERFORMANCE. BY ATTENDING AN EVENT AT A CITY FACILITY, YOU MUST ADHERE TO THE CITY OF TRACY'S HEALTH AND SAFETY STANDARDS (AS POSTED OR PROVIDED) AND VOLUNTARILY ASSUME ALL RISKS RELATED TO EXPOSURE TO COVID-19 (IN ACCORDANCE WITH CALIFORNIA AB 1313 (2020)).
These tickets will go on sale to the public online only Saturday, August 11th at 10am and in person or over the phone starting Monday, August 13th.