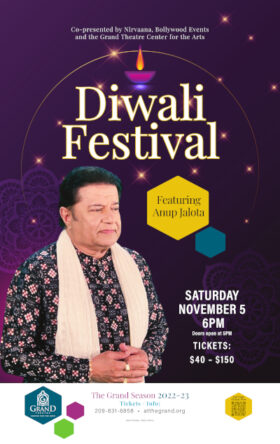 Diwali – Festival of Lights
Buy Tickets
---
Co-Presented by Nirvaana, Bollywood Events & the Grand Theatre Center for the Arts
DATE: SATURDAY, November 5, 2022 AT 6:00PM
Ticket Price(s):  $40 and up (Additional fees apply)
Seating Chart – Madame Lieutenant Governor Eleni Kounalakis Theatre (EK Theatre)
Diwali is celebrated as the "Festival of Lights," which signifies the victory of good over evil within an individual. The festival symbolizes unity in diversity as every region of India celebrates in its own unique way. Join us as we celebrate with one of India's most prolific vocalists, Anup Jalota.
Equally skilled at singing bhajans, ghazals and classical music, Jalota recorded such hits as "Aisi Lagi Lagan," "Rang De Chunariya," "Chand Angdaiya Le Raha Hai," "Maiya Mori Mein Nahin Makhan Khayo" and "Jag Mein Sundar Hai Ghulam." Jalota preserves India's traditional music and has released two extensive collections of music in the sanskrit language. Ram Charit Manas: Ramayan is a set of twenty cassettes, while, Bhaqwat Gita is an extensive collection of thirty cassettes. In an early-1990s interview, Jaluta said, "My music has given people a lot of peace, a lot of good thoughts and I feel the difference in me also." The son of famed singer and teacher, Purshottam Jalota, Jalota made his debut as a vocalist at the age of seven. Moving to Lucknow, he studied Hindi classical songs with Bhatkande Sangeet Vidyalaya and attended Lucknow University. Shortly after relocating to Mumbai, he launched his career as a chorus singer. His first break came when he appeared in the Manoj Kumar-produced film, Shirdi Ke Saibaba.
PLEASE NOTE: THE CITY OF TRACY (CITY) AND GRAND THEATRE CENTER FOR THE ARTS (GRAND THEATRE) FOLLOW AND COMPLY WITH APPLICABLE FEDERAL, STATE, AND COUNTY PUBLIC HEALTH AND SAFETY GUIDANCE, LAWS, AND PROTOCOLS IN RESPONSE TO THE COVID-19 PANDEMIC. IN THE EVENT A PUBLIC HEALTH ORDER IS PUT INTO EFFECT THAT LIMITS OCCUPANCY OR OPERATIONS, THE CITY AND GRAND THEATRE RESERVE THE RIGHT TO CANCEL OR POSTPONE ANY PERFORMANCE. BY ATTENDING AN EVENT AT A CITY FACILITY, YOU MUST ADHERE TO THE CITY OF TRACY'S HEALTH AND SAFETY STANDARDS (AS POSTED OR PROVIDED) AND VOLUNTARILY ASSUME ALL RISKS RELATED TO EXPOSURE TO COVID-19 (IN ACCORDANCE WITH CALIFORNIA AB 1313 (2020)).
These tickets will go on sale to the public online only Saturday, August 11th at 10am and in person or over the phone starting Monday, August 13th.