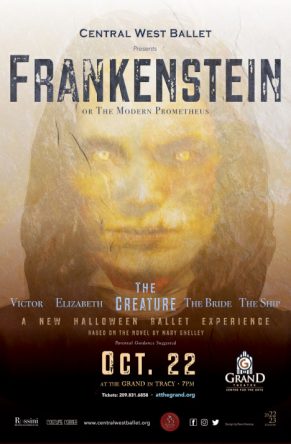 Frankenstein
Buy Tickets
---
Co-Presented by Central West Ballet & The Grand Theatre Center for the Arts
DATE: SATURDAY, OCTOBER 22, 2022 AT 7:00PM
Ticket Price(s):  $18-$30 (Additional fees apply)
Seating Chart – Madame Lieutenant Eleni Kounalakis Theatre (EK Theatre)
Parental Guidance Suggested
Central West Ballet's world premiere of Frankenstein depicts Mary Shelley's revered story on stage with rich visuals and an epic original music score. If you loved Legend of Sleepy Hollow and Dracula, then you'll definitely love Frankenstein! The original gothic tale, considered to be the first science fiction novel, was set in the 18th century at the end of the Enlightenment and Romantic periods. Dramatically charged, this classic novel has influenced popular culture since its publication in 1818. Frankenstein is a parable on the dangers of playing God as well as a tragic romance. The story of a creature stitched from corpses who later turns on his creator speaks to the morality of creating artificial technology which can potentially overrun its mastermind. As relevant today as ever, Frankenstein will transport you into a mesmerizing and terrifying journey. Get your tickets to CWB's all new Halloween Ballet Experience!
Please Note: The City of Tracy (City) and Grand Theatre Center for the Arts (Grand Theatre) follow and comply with applicable federal, state, and county public health and safety guidance, laws, and protocols in response to the COVID-19 pandemic. In the event a public health order is put into effect that limits occupancy or operations, the City and Grand Theatre reserve the right to cancel or postpone any performance. By attending an event at a City facility, you must adhere to the City of Tracy's health and safety standards (as posted or provided) and voluntarily assume all risks related to exposure to COVID-19 (in accordance with California AB 1313 (2020)).
These tickets will go on sale to the public online only Saturday, August 11th at 10am and in person or over the phone starting Monday, August 13th.