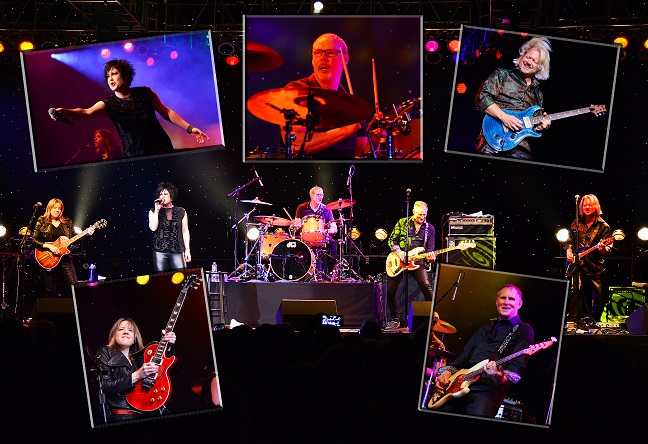 Heart by Heart
DATE: SATURDAY, JANUARY 22, 2022 AT 8:00PM
Ticket Price(s):  $25-$45 (Additional fees apply)
Seating Chart – Madame Lieutenant Eleni Kounalakis Theatre (EK Theatre)
Featuring Original Heart Members Steve Fossen & Michael Derosier "Playing the Legendary Music of Heart"
Steve Fossen and Michael Derosier, bassist and drummer for the band Heart during the 1970s and early 1980s, are now touring as Heart By Heart. "Our mission is to perform the classic Heart music as faithfully as we can," Fossen says. The band features vocalist Somar Macek, guitarist/keyboardist/vocalist Lizzy Daymont and guitarist Chad Quist. Heart By Heart presents a powerful, dynamic show that includes all the favorite Heart hits as well as deep album cuts that fans will love.
Fossen and Derosier are the powerful driving engine behind Heart's classic hits like "Barracuda", "Straight On", "Crazy On You", "Magic Man", "Even It Up", "Dog & Butterfly", "Heartless", "Kick It Out", and more. First formed by Steve
Fossen in 1969, Heart went on to release six top-10 albums and landed 20 hit singles on the Billboard top 40 chart. In recognition of their contributions to these iconic recordings, and to Heart's first seven years of national and
international touring, Fossen and Derosier were inducted into The Rock & Roll Hall of Fame with the rest of the original Heart lineup in 2013.
Please Note: The City of Tracy (City) and Grand Theatre Center for the Arts (Grand Theatre) follow and comply with applicable federal, state, and county public health and safety guidance, laws, and protocols in response to the COVID-19 pandemic. In the event a public health order is put into effect that limits occupancy or operations, the City and Grand Theatre reserve the right to cancel or postpone any performance. By attending an event at a City facility, you must adhere to the City of Tracy's health and safety standards (as posted or provided) and voluntarily assume all risks related to exposure to COVID-19 (in accordance with California AB 1313 (2020)).
These tickets will go on sale to the public online only Saturday, August 11th at 10am and in person or over the phone starting Monday, August 13th.
Buy Tickets