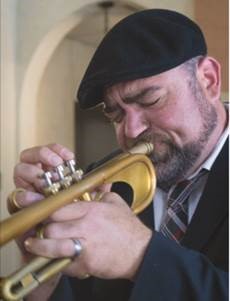 Jeff Bordes and Friends – Tribute to the Ladies of Jazz
DATE: SATURDAY, FEBRUARY 8, 2020 AT 8:00PM
Ticket Price(s):  $25-$38
Seating Chart – Eleni Tsakopoulos-Kounalakis Theatre (ETK Theatre)
Trumpeter Jeff Bordes returns to the Grand to pay tribute to great female voices of jazz: Ella Fitzgerald, Billie Holliday, Nina Simone, Sarah Vaughn, and more. This evening will feature three amazing singers from three unique genres paying tribute to the ladies of jazz, Emily Day, Megan Slankard, and Lilan Kane.
Emily Day is an accomplished vocalist and arranger who draws her inspiration from her love of the American Songbook and her engagement in the tapestry that is jazz today. Emily has been performing jazz since the age of 16, and quickly became immersed in its sounds and culture. Over the years she has had the honor of sharing the stage and performing with Ray Vega, Maynard Ferguson, Reggie Workman, Jane Ira Bloom, Armen Donelian, Junior Mance, Sheila Jordan, Kenny Washington, California Honeydrops, Lavay Smith, and Amos Lee.
Tracy's own Indie Rocker, Megan Slankard, has independently sold 40,000 copies of her five self-released albums, and is currently working on a brand new double-EP release in 2019 with Nashville producer Alex Wong. Wong (Vienna Teng, Delta Rae) also produced her fifth, and current album, Running on Machinery. Her preceding album, A Token of the Wreckage, was recorded with help from David Bryson (Counting Crows) and Jerry Becker (Train). Megan's adventures have also included a summer 2018 USA tour with Toad the Wet Sprocket, a 50-date Guitar Center tour sponsored by BOSE, a 5-date northern California tour with Train, singing backup and a duet with frontman Pat Monahan, co-writing, performing, and producing a song for San Francisco AAA radio station KFOG's Breast Cancer Research charity drive (featuring featured guest singers Hozier, Florence Welch, Steve Earle, Grace Potter and more,) playing electric guitar on Jimmy Kimmel Live, singing the National Anthem at AT&T Park for the San Francisco Giants on five separate occasions, singing on Glen Keane's animated short Duet, touring with Dire Straits co-founder David Knopfler throughout Europe, and even participating on two episodes of TLC's reality makeover series, What NOT to Wear.
Lilan Kane (pronounced LEE – lawn) is a vocalist based in Oakland, CA whose vintage-tinged soul sound flows through the heartfelt compositions, telling stories of love, loss, and self-discovery while they seamlessly blend R&B, funk, pop, and jazz. Her music is influenced by the jazz and soul legends in her record collection and encompasses a myriad of genres and emotions reaching audiences local and abroad. A graduate of Berklee College of Music, Lilan studied with Grammy award winning vocal arranger Donna McElroy and drummer/arranger Kenwood Dennard. She has a full length album Love, Myself and her EP  Wonder produced by Michael Aaberg (Lalah Hathaway, Goapele) as well as a brand new EP Shadows, a collaborative release with Cosa Nostra Strings of the Jazz Mafia family.
Jeff Bordes needs no introduction to those in the music industry. A 1997 graduate of Berklee College of Music in Boston, he has been playing since his early years and since, hasn't stopped changing the face of jazz. He has during his career played live with and recorded on the projects of such esteemed artists as Jon Faddis, Branford Marsalis, Alex Acuna, Giovanni Hidalgo, Horacio "El Negro" Hernandez, Richie Cole, David Garibaldi, Tom Petty, Steve Earle, Stevie Nicks, Sheryl Crow, Karl Denson, Sugarhill Gang, Dana Carvey and most recently, John Mellencamp. He has toured in Japan and across the United States with various groups such as the Bill Berry Big Band, Dizzy Gillespie, and others. Bordes has recorded numerous CDs for a variety of groups including San Francisco's Force Seven, Adam Ben, Heather Combs, Beats Antique and Boston's 'The Hi-Hats.'
These tickets will go on sale to the public online only Saturday, August 11th at 10am and in person or over the phone starting Monday, August 13th.
Buy Tickets