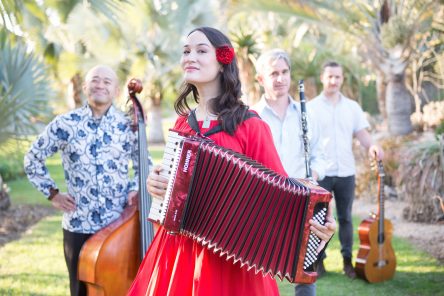 Jessica Fichot
DATE: SATURDAY, FEBRUARY 11, 2023 AT 8:00PM
Ticket Price(s):  $15-$30 (Additional fees apply) CANCELED
Seating Chart – Madame Lieutenant Governor Eleni Kounalakis Theatre (EK Theatre)
Due to unforeseen circumstances we regret to announce that Jessica Fichot's performance on Saturday, February 11, 2023 has been canceled.
"A delicious blend of acoustic styles." –San Francisco Chronicle
 "Enchantingly original." –LA Weekly
Celebrate Valentine's Day with us as we take a tour of the world through love songs! Los Angeles-based chanteuse/songwriter Jessica Fichot is a lot like her hometown of Paris: French at heart, but with a soul that's truly international. Drawing from her multi-ethnic French / Chinese / American upbringing, her music takes the listener on a twisting journey out of the French chanson tradition, into the land of 1940s Shanghai jazz, gypsy swing, international folk and into the wilderness of her imagination.
With three acclaimed albums under her belt, Jessica has charmed audiences around the world — performing her lively songs at concert halls, festivals and clubs in China, Mexico, Canada and across the U.S. and western Europe. Featuring scorching performances from her bandmates on clarinet/sax, upright bass and guitar, as well as her own beautiful, clear vocals in French, Mandarin Chinese, Spanish and English, Fichot's music is truly a dazzling trans-world journey.
PLEASE NOTE: THE CITY OF TRACY (CITY) AND GRAND THEATRE CENTER FOR THE ARTS (GRAND THEATRE) FOLLOW AND COMPLY WITH APPLICABLE FEDERAL, STATE, AND COUNTY PUBLIC HEALTH AND SAFETY GUIDANCE, LAWS, AND PROTOCOLS IN RESPONSE TO THE COVID-19 PANDEMIC. IN THE EVENT A PUBLIC HEALTH ORDER IS PUT INTO EFFECT THAT LIMITS OCCUPANCY OR OPERATIONS, THE CITY AND GRAND THEATRE RESERVE THE RIGHT TO CANCEL OR POSTPONE ANY PERFORMANCE. BY ATTENDING AN EVENT AT A CITY FACILITY, YOU MUST ADHERE TO THE CITY OF TRACY'S HEALTH AND SAFETY STANDARDS (AS POSTED OR PROVIDED) AND VOLUNTARILY ASSUME ALL RISKS RELATED TO EXPOSURE TO COVID-19 (IN ACCORDANCE WITH CALIFORNIA AB 1313 (2020)).
These tickets will go on sale to the public online only Saturday, August 11th at 10am and in person or over the phone starting Monday, August 13th.