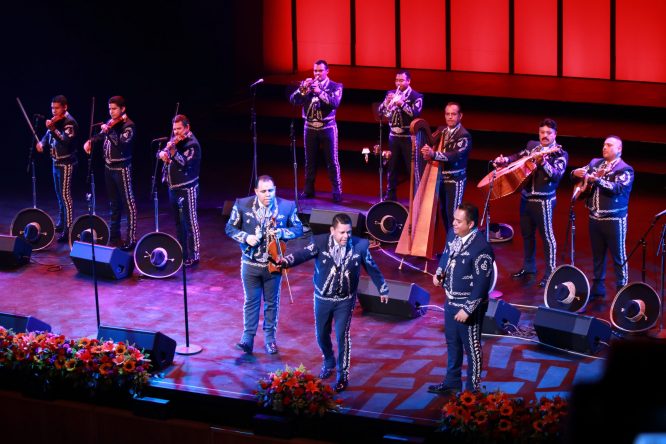 Mariachi Los Camperos Presenta : Viva Mexico!
DATE: SUNDAY, FEBRUARY 27, 2022 AT 3:00PM & 6:30PM
Ticket Price(s):  $30-$60 (Additional fees may apply)
Seating Chart – Madame Lieutenant Governor Eleni Kounalakis Theatre (EK Theatre)
Grammy Award winner Mariachi Los Camperos presents "Viva Mexico!".
This presentation celebrates our audience with the most beautiful music in the world. The performance will take you to many Mexico states showing the many styles music and their array of colorful traditional dances performed by Grupo Folclorico Chiquina Palafox. This performance will surely create an unforgettable experience for all of our guests.
Mariachi Los Camperos, Ground breaking and torchbearers of the Century-old tradition of Mariachi, has become the most popular mariachi ensemble in the U.S., is noted for innovative shows and distinction as a concert ensemble. The group has performed for over 60 years on stage and television, including various PBS specials, "In Performance at the White House." "Sex in the City 2," "The Lost World: Jurassic Park," "Jerry Maguire" and many more.  The Grammy Award-winning ensemble has recorded over 18 albums and continues to thrill audiences with its powerful voices and demanding musical arrangements. Having won a few Grammy Awards with Grammy Nominations in 2005, 2006, 2008, 2015 and 2020.
Mariachi Los Camperos also collaborated on Linda Ronstadt's album, Canciones de Mi Padre (Songs of my Father) and Mas Canciones (More Songs). The group participated in promoting the albums worldwide, and made national television appearances on programs such as The Tonight Show with Johnny Carson and the Grammy Awards Show.
Mariachi Los Camperos continue to salvage the richness of our music and culture in effort to display and influence the younger generations of mariachi throughout the world.
These tickets will go on sale to the public online only Saturday, August 11th at 10am and in person or over the phone starting Monday, August 13th.
Buy Tickets