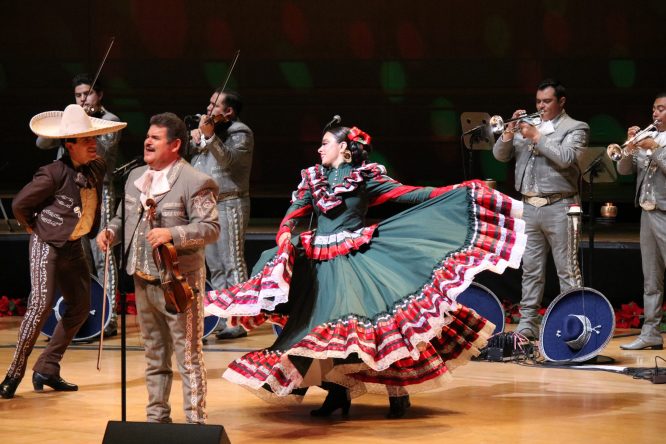 Mariachi Los Camperos
Buy Tickets
---
DATE: SATURDAY, February 25, 2023 AT 4:00PM & 8:00PM
Ticket Price(s):  $30 – $60 (Additional fees apply)
Seating Chart – Madame Lieutenant Governor Eleni Kounalakis Theatre (EK Theatre)
Three-time Grammy® winner Mariachi Los Camperos presents "Viva Mexico!" Acclaimed by audiences at Lincoln Center, The Kennedy Center, The Smithsonian Folklife Festival and other major venues throughout the U.S., their skillfully arranged versions of classic mariachi melodies and regional styles of traditional music feature full-throated harmonies and unforgettable festive pageantry. Mariachi Los Camperos was founded in 1961 by Natividad "Nati" Cano and has played a fundamental role in the development of mariachi music in the United States by mentoring new generations of musicians and expanding audiences. A visionary leader, Cano's goal was to take mariachi beyond cantinas and onto the stages of the biggest and best concert halls. Today, under the leadership of longtime musical director Jesus "Chuy" Guzman, this groundbreaking mariachi ensemble continues to realize that vision and remains a beacon of artistic excellence and deep community engagement. Join us on a journey through the many states of Mexico and experience the array of colorful traditional songs with dances performed by Grupo Folclorico Chiquina Palafox.
PLEASE NOTE: THE CITY OF TRACY (CITY) AND GRAND THEATRE CENTER FOR THE ARTS (GRAND THEATRE) FOLLOW AND COMPLY WITH APPLICABLE FEDERAL, STATE, AND COUNTY PUBLIC HEALTH AND SAFETY GUIDANCE, LAWS, AND PROTOCOLS IN RESPONSE TO THE COVID-19 PANDEMIC. IN THE EVENT A PUBLIC HEALTH ORDER IS PUT INTO EFFECT THAT LIMITS OCCUPANCY OR OPERATIONS, THE CITY AND GRAND THEATRE RESERVE THE RIGHT TO CANCEL OR POSTPONE ANY PERFORMANCE. BY ATTENDING AN EVENT AT A CITY FACILITY, YOU MUST ADHERE TO THE CITY OF TRACY'S HEALTH AND SAFETY STANDARDS (AS POSTED OR PROVIDED) AND VOLUNTARILY ASSUME ALL RISKS RELATED TO EXPOSURE TO COVID-19 (IN ACCORDANCE WITH CALIFORNIA AB 1313 (2020)).
These tickets will go on sale to the public online only Saturday, August 11th at 10am and in person or over the phone starting Monday, August 13th.