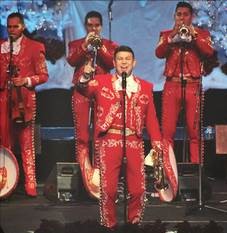 Mariachi Sol de Mexico® de Jóse Hernàndez
PUBLIC ON SALE: MONDAY, AUGUST 26TH AT 10AM!
Co-Presented by the Tracy Chamber of Commerce and the Grand Theatre Center for the Arts
DATE: SATURDAY, OCTOBER 12, 2019 AT 7:00PM
Ticket Price(s):  $35, $50, $100 VIP, $120 VIP Box
Part of the romance of mariachi songs is that all things are possible. The humor, the spirit, even the bittersweet inspire us to a world where we live out our dreams. In that same way, much of the excitement of Mariachi Sol de Mexico® de Jóse Hernàndez is that all things mariachi are possible.
His family tree is rooted in five generations of mariachi musicians that hail from La Sierra del Tigre region of Jalisco. Jóse built on that foundation to grow mariachi music in new lands, in new musical genres and in the hearts of new audiences.
These tickets will go on sale to the public online only Saturday, August 11th at 10am and in person or over the phone starting Monday, August 13th.