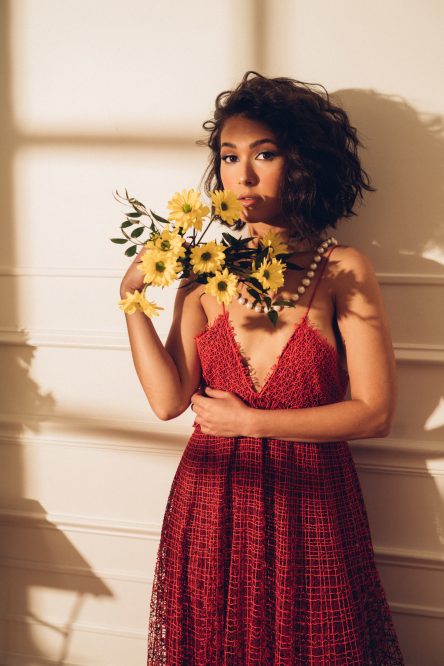 Nella
Buy Tickets
---
DATE: FRIDAY, APRIL 21, 2023 AT 8:00PM
Ticket Price(s):  $25-$50 (Additional fees apply)
Seating Chart – Madame Lieutenant Governor Eleni Kounalakis Theatre (EK Theatre)
Born in Venezuela, Nella skyrocketed to international renown fueled by her powerhouse voice and undeniable presence. In a short time, she went from Berklee College of Music graduate to winner of the 2019 Latin GRAMMY® Award for Best New Artist. That same year, her full-length debut, Voy (I Go) received acclaim from NPR and yielded the hit "Me Llaman Nella" (They Call Me Nella) which surpassed 1.4 million Spotify streams and 1.4 million views on YouTube. In addition, the title track was named the 14th best song of 2019, in any genre, by the New York Times.
Merging the folklore roots of Venezuela, modern production, and Andalusian inspirations, her sound resounds in every corner of the globe. Not only has she packed venues throughout the United States, Venezuela, Mexico, Spain, and the UK, but she has also accompanied Alejandro Sanz, Jennifer López, Carlos Vives, Luis Enrique, Susana Baca, Los Amigos Invisibles, Monsieur Periné, Caramelos de Cianuro and Guaco as a soloist. Notably, Academy® Award winner Asghar Farhadi recruited her to join the A-list cast of his film Everybody Knows alongside Academy® Award winner Javier Bardem, Ricardo Darín, and Academy® Award winner Penélope Cruz. Illuminating her talents, she performed songs written exclusively for the screenplay. It opened at the Cannes Film Festival to rapturous applause.
PLEASE NOTE: THE CITY OF TRACY (CITY) AND GRAND THEATRE CENTER FOR THE ARTS (GRAND THEATRE) FOLLOW AND COMPLY WITH APPLICABLE FEDERAL, STATE, AND COUNTY PUBLIC HEALTH AND SAFETY GUIDANCE, LAWS, AND PROTOCOLS IN RESPONSE TO THE COVID-19 PANDEMIC. IN THE EVENT A PUBLIC HEALTH ORDER IS PUT INTO EFFECT THAT LIMITS OCCUPANCY OR OPERATIONS, THE CITY AND GRAND THEATRE RESERVE THE RIGHT TO CANCEL OR POSTPONE ANY PERFORMANCE. BY ATTENDING AN EVENT AT A CITY FACILITY, YOU MUST ADHERE TO THE CITY OF TRACY'S HEALTH AND SAFETY STANDARDS (AS POSTED OR PROVIDED) AND VOLUNTARILY ASSUME ALL RISKS RELATED TO EXPOSURE TO COVID-19 (IN ACCORDANCE WITH CALIFORNIA AB 1313 (2020)).
These tickets will go on sale to the public online only Saturday, August 11th at 10am and in person or over the phone starting Monday, August 13th.