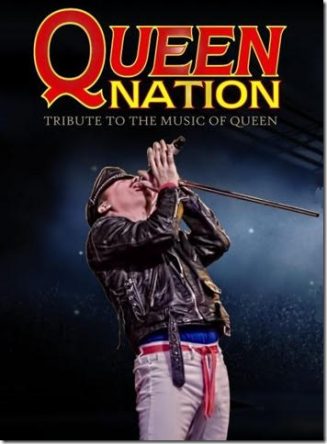 Queen Nation – Tribute to the Music of Queen
DATE: FRIDAY, MARCH 27, 2020 AT 8:00PM
Ticket Price(s):  $20-$35
Seating Chart – Eleni Tsakopoulos-Kounalakis Theatre (ETK Theatre)
Come out and enjoy an evening that is sure to bring you back to the golden age of a vintage Queen concert. The original Queen was led by the all-time great performer Freddie Mercury, who was arguably one of the most powerful front men in one of the
most iconic rock groups in Rock 'n Roll history. It's hard to match the entertainment power Queen had in the rock concert world, however, Queen Nation comes very close.
Queen Nation is a visual and musical tribute performance to Queen. Formed in 2004 by David Hewitt of DMHE Music & Productions Agency, Queen Nation features Gregory Finsley on vocals and keyboards as Freddie Mercury, Mike McManus
on guitar as Brian May, Pete Burke on drums as Roger Taylor, and Parker Combs on bass as John Deacon. Queen Nation's goal is to carry Queen's musical torch, exposing the music to new and old fans by paying homage to the legendary rock band.
In 2013, Queen Nation was recognized as "The World's Greatest Queen Tribute" by Mark Cuban, Ryan Seacrest and AXS-TV. Queen Nation was even featured in a 1-hour live national broadcast from Hollywood to millions of viewers. AXS-TV also
released a "World's Greatest Tribute Bands" compilation album that features two tracks by Queen Nation.
These tickets will go on sale to the public online only Saturday, August 11th at 10am and in person or over the phone starting Monday, August 13th.
Buy Tickets