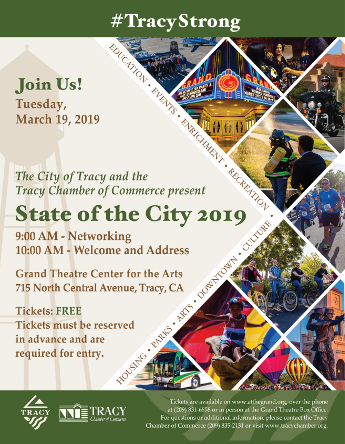 State of the City 2019 – #TracyStrong
DATE: TUESDAY, MARCH 19, 2019 at 9:00am
Ticket Price: FREE
The City of Tracy, in partnership with the Tracy Chamber of Commerce, is proud to present the annual State of the City Address on Tuesday, March 19, 2019, at the Grand Theatre Center for the Arts, located at 715 Central Avenue in Downtown Tracy.  Please join us for networking at 9 AM, the presentation will begin at 10 AM.
The event theme, Tracy Strong, will be incorporated into Mayor Rickman's third State of the City Address.  During his presentation, the Mayor will highlight the City's accomplishments in 2018, and his vision for Tracy's future.
There is no cost to attend the State of the City event this year, however, tickets are required for entry and may be reserved online: www.atthegrand.org, over-the-phone by calling (209) 831-6858 or by visiting the Grand Theatre Box Office.  Doors open at 9 AM for networking opportunities and the program will begin at 10 AM. This event is geared toward the local and regional business community; however, the general public is welcome and encouraged to attend, as well.  For more information, please contact the Tracy Chamber of Commerce by calling (209) 835-2131 or visiting: www.tracychamber.org.
These tickets will go on sale to the public online only Saturday, August 11th at 10am and in person or over the phone starting Monday, August 13th.
Buy Tickets