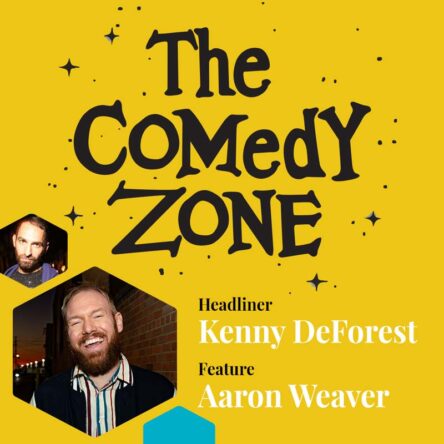 The Comedy Zone with Kenny DeForest
Buy Tickets
---
DATE: THURSDAY, DECEMBER 8, 2022 AT 7:00PM
Ticket Price(s):  $25 (Additional fees apply)
Venue: Studio Theatre – General Admission Seating
Are you looking to turn your normal weeknight into an unforgettable night of laughter? We're excited to partner with The Comedy Zone for our brand-new stand-up comedy series. The Comedy Zone is the most trusted name in stand-up comedy and this series will bring top-notch comedians, big laughs and a night to remember. You'll see some of the hottest comedians in the country, who have been featured on Comedy Central, HBO Comedy, Netflix, Hulu, CMT, NBC, FOX, CBS, ABC, BET, Just for Laughs, Dry Bar, Sirius XM and more!
HEADLINER: KENNY DeFOREST
Kenny DeForest is a stand-up comedian, writer, and actor best known for his appearances on Late Night with Seth Meyers, The Late Late Show with James Corden, Comedy Central Stand-up, HBO's "Crashing," TruTV's "Friends of the People," and as a former producer and co-host of "Comedy at the Knitting Factory," widely considered to be one of the best independently run comedy shows in the world. In 2017, he recorded his debut stand-up album "B.A.D. Dreams" with Comedy Dynamics, which debuted #1 on iTunes, and in 2015 he was named one of Comedy Central's "Comics to Watch." In 2018, he was invited to perform in the prestigious Just For Laughs Comedy Festival in Montreal as a "New Face" where he was named "Best of the New Faces" by The Village Voice. In 2016, he was included in the "50 Funniest People in Brooklyn" by Brooklyn Magazine. With a wry grin and a gentle heart, DeForest guides his audiences through the darkest recesses of human existence and shines a light on them to remind us all that, more often than not, the boogeyman is actually just an absurdly funny glitch in the matrix. kennydeforest.com
FEATURE: AARON WEAVER
Aaron Weaver started doing stand-up in Chicago in 2008, with a point-of-view so specific, so original, and so hilarious that the rest of the Chicago comedy scene quickly took notice. He rapidly became one of Chicago's most heralded stand-ups, due to his custom brand of absurd soulfulness and his way of exploring all the smartest and stupidest thoughts that go through all of our heads. He has performed at the TBS Just For Laughs Festival (twice), as well as the Boston and Bridgetown Comedy Festivals. Since moving to LA in 2013 he was named one of Comedy Central's "Comics to Watch" as well as being named one of Last Comic Standing's "Top 100 Comedians," and finally he was just named one of LA's Rising Stars by The Culture Trip. He currently runs a spiritual comedy experience called Full Moon Comedy at the metaphysical/crystal shop Liberate Hollywood, where each month he leads the gathering in guided meditation. If you're looking for someone to help raise your vibration, look no further than Aaron Weaver. aaronweavercomedy.com
PLEASE NOTE: THE CITY OF TRACY (CITY) AND GRAND THEATRE CENTER FOR THE ARTS (GRAND THEATRE) FOLLOW AND COMPLY WITH APPLICABLE FEDERAL, STATE, AND COUNTY PUBLIC HEALTH AND SAFETY GUIDANCE, LAWS, AND PROTOCOLS IN RESPONSE TO THE COVID-19 PANDEMIC. IN THE EVENT A PUBLIC HEALTH ORDER IS PUT INTO EFFECT THAT LIMITS OCCUPANCY OR OPERATIONS, THE CITY AND GRAND THEATRE RESERVE THE RIGHT TO CANCEL OR POSTPONE ANY PERFORMANCE. BY ATTENDING AN EVENT AT A CITY FACILITY, YOU MUST ADHERE TO THE CITY OF TRACY'S HEALTH AND SAFETY STANDARDS (AS POSTED OR PROVIDED) AND VOLUNTARILY ASSUME ALL RISKS RELATED TO EXPOSURE TO COVID-19 (IN ACCORDANCE WITH CALIFORNIA AB 1313 (2020)).
These tickets will go on sale to the public online only Saturday, August 11th at 10am and in person or over the phone starting Monday, August 13th.