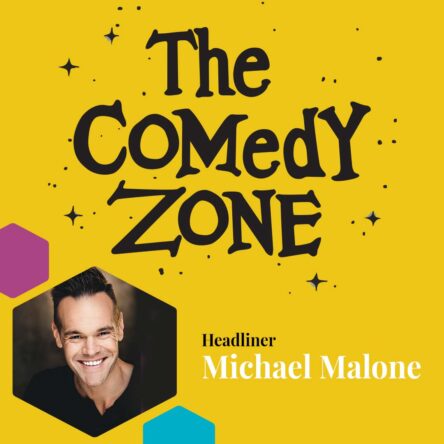 The Comedy Zone with Michael Malone
Buy Tickets
---
DATE: THURSDAY, APRIL 13, 2023 AT 7:00PM
Ticket Price(s):  $25 (Additional fees apply)
All seating in the Studio Theatre will be general admission!
Are you looking to turn your normal weeknight into an unforgettable night of laughter? We're excited to partner with The Comedy Zone for our brand-new stand-up comedy series. The Comedy Zone is the most trusted name in stand-up comedy and this series will bring top-notch comedians, big laughs and a night to remember. You'll see some of the hottest comedians in the country, who have been featured on Comedy Central, HBO Comedy, Netflix, Hulu, CMT, NBC, FOX, CBS, ABC, BET, Just for Laughs, Dry Bar, Sirius XM and more!
Headliner: MICHAEL MALONE
Michael Malone is an award-winning stand-up comedian, film director and writer that is currently based in Los Angeles. His blistering humor focuses on breaking down the idiotic ways we deal with life, death, love and sex.
In 2012, Michael won the Seattle International Comedy Competition. From there he was named 2013's "HOT Comic to Watch." In 2014 he was voted one of the "Top Five Comedy Performers" in the U.S. college market. In 2015 Michael released his second comedy album via Uproar Records titled, "Thirty One." This album was featured for several weeks on the New and Noteworthy section of iTunes and became a top ten best selling album on iTunes. "Malone is as engaging as perfectly-choreographed ballet." – Angela Frissore from AXS Magazine said about Michael's album, "Thirty One."
Michael has been featured on the second season of Showtime's drama series, "I'm Dying Up Here." Multiple episodes of Comedy Central's "Bad Ass Bitches of History." "Punchlines" on Fox television, the Bob and Tom Show, XM Radio, 24/7 Comedy Radio, the Fusion Channel, WGN, Comcast on Demand, HULU's "Comedy Time", The CW, and the first two seasons of "Laughs" on Fox television.
Michael leaped into the film world when he booked the lead in the comedy/horror cult classic film, "Chopping Block" in 2015. The following year he co-wrote, directed and starred in the film, "Bethlehem." This was Michael's debut as a director and writer and the film brought home 16 awards and nominations in the film festival circuit including Best Feature Film, Best Dark Comedy, Best Ensemble Cast and was even named one of the top 10 indie films of 2016. Michael also wrote, directed and starred in a short film in 2017 called "Smashing Pumpkins" that was nominated for "Best Film" and "Best Comedy" as well.
Later that year Michael went over seas with the Armed Forces Entertainment Tour and performed for the US military in eleven different countries and started writing a monthly column for "Face the Current" Magazine based on his unique storytelling podcast, "Punched Up." Michael also created and voiced the animated series "The Good Doctor" on the Funny or Die network. He also created the NSFW nature show on the Laugh Factory's youtube channel, "Mother F*cking Nature." In 2019 Michael directed his own one-hour comedy special that will be available on Amazon called, "Laugh After Death."
PLEASE NOTE: THE CITY OF TRACY (CITY) AND GRAND THEATRE CENTER FOR THE ARTS (GRAND THEATRE) FOLLOW AND COMPLY WITH APPLICABLE FEDERAL, STATE, AND COUNTY PUBLIC HEALTH AND SAFETY GUIDANCE, LAWS, AND PROTOCOLS IN RESPONSE TO THE COVID-19 PANDEMIC. IN THE EVENT A PUBLIC HEALTH ORDER IS PUT INTO EFFECT THAT LIMITS OCCUPANCY OR OPERATIONS, THE CITY AND GRAND THEATRE RESERVE THE RIGHT TO CANCEL OR POSTPONE ANY PERFORMANCE. BY ATTENDING AN EVENT AT A CITY FACILITY, YOU MUST ADHERE TO THE CITY OF TRACY'S HEALTH AND SAFETY STANDARDS (AS POSTED OR PROVIDED) AND VOLUNTARILY ASSUME ALL RISKS RELATED TO EXPOSURE TO COVID-19 (IN ACCORDANCE WITH CALIFORNIA AB 1313 (2020)).
These tickets will go on sale to the public online only Saturday, August 11th at 10am and in person or over the phone starting Monday, August 13th.