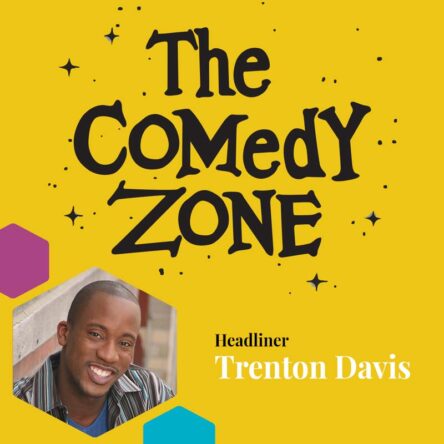 The Comedy Zone with Trenton Davis
Buy Tickets
---
DATE: THURSDAY, JANUARY 12, 2022 AT 7:00PM
Ticket Price(s):  $25 (Additional fees apply)
Venue: Studio Theatre – General Admission Seating
Are you looking to turn your normal weeknight into an unforgettable night of laughter? We're excited to partner with The Comedy Zone for our brand-new stand-up comedy series. The Comedy Zone is the most trusted name in stand-up comedy and this series will bring top-notch comedians, big laughs and a night to remember. You'll see some of the hottest comedians in the country, who have been featured on Comedy Central, HBO Comedy, Netflix, Hulu, CMT, NBC, FOX, CBS, ABC, BET, Just for Laughs, Dry Bar, Sirius XM and more!
HEADLINER: Trenton Davis
Trenton Davis' ten thousand hours of stand-up comedy is beginning to show dividends – Trenton was the runner up in the 2016 San Francisco International Comedy Competition. He also logged an impressive 3rd place finish in the 2015 Laughing Skull Festival as well as a 1st place finish in the 2013 Sacramento Comedy festival.
Trenton was born in Greensboro, NC and began his comedy journey in Chicago, IL. His unique experiences have shaped his views and created one of the best new comedic writers and performers of our generation. Trenton has lived in three major comedy cities and he is a comedian on the rise.
Trenton Davis's date at The Comedy Zone was moved to January 12 from his original November 10 date.
PLEASE NOTE: THE CITY OF TRACY (CITY) AND GRAND THEATRE CENTER FOR THE ARTS (GRAND THEATRE) FOLLOW AND COMPLY WITH APPLICABLE FEDERAL, STATE, AND COUNTY PUBLIC HEALTH AND SAFETY GUIDANCE, LAWS, AND PROTOCOLS IN RESPONSE TO THE COVID-19 PANDEMIC. IN THE EVENT A PUBLIC HEALTH ORDER IS PUT INTO EFFECT THAT LIMITS OCCUPANCY OR OPERATIONS, THE CITY AND GRAND THEATRE RESERVE THE RIGHT TO CANCEL OR POSTPONE ANY PERFORMANCE. BY ATTENDING AN EVENT AT A CITY FACILITY, YOU MUST ADHERE TO THE CITY OF TRACY'S HEALTH AND SAFETY STANDARDS (AS POSTED OR PROVIDED) AND VOLUNTARILY ASSUME ALL RISKS RELATED TO EXPOSURE TO COVID-19 (IN ACCORDANCE WITH CALIFORNIA AB 1313 (2020)).
These tickets will go on sale to the public online only Saturday, August 11th at 10am and in person or over the phone starting Monday, August 13th.