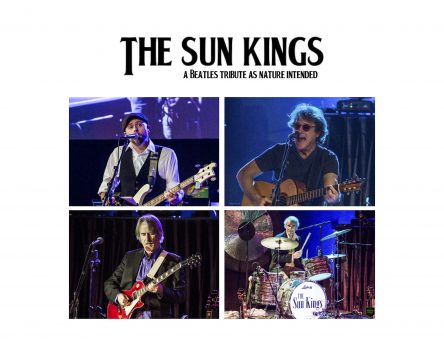 The Sun Kings
Buy Tickets
---
DATE: SATURDAY, APRIL 8, 2023 AT 8:00PM
Ticket Price(s):  $25-$40 (Additional fees apply)
Seating Chart – Madame Lieutenant Governor Eleni Kounalakis Theatre (EK Theatre)
Audiences and critics alike absolutely love The Sun Kings' energy and spot on recreation of The Beatles' music. The Sun Kings are considered one of the premier Beatles tribute acts in the country. Packing theaters and selling out shows along the West Coast and beyond, The Sun Kings continue to amaze their fans and win over skeptics, with their uncanny channeling and respect for the music they perform. With a repertoire of over 200 songs, The Sun Kings shine in concert with arrangements and vocal harmonies delivered with the authenticity and vitality that recall the earliest Beatles performances.
"The Sun Kings are superb! …as close to the Beatles live and in studio as possible!" -Ben Fong-Torres | Former Editor Rolling Stone Magazine
"The Sun Kings are the best Beatles band I've ever heard, and that includes the original Beatlemania cast, circa 1977." -Scott Lettieri | KGO Radio San Francisco
"The only band that could come that close to doing Beatles music would be The Beatles!" -Richard Freedman | Vacaville Media News
"…with their sets loaded with peak moments, their dazzling harmonies leading each ascent, the Sun Kings only flaw is that they eventually have to stop the celebration…" -Tom Stack | Lafayette Town Hall Theatre Board VP
"Unbelievable!" -Dean Goss | KFRC Radio – San Francisco
Together for over 20 years, The Sun Kings are not a traditional Beatles tribute band. Every member of the band is a veteran musician who loves recreating The Beatles' music exactly as we all remember it. Their performance of is unique among the many theatrical tributes that exist today, foregoing the costumes and caricature but delivering the most energetic, note for note instrumental and vocal performances of The Beatles music you will ever hear.
Experience The Sun Kings in concert and you will hear the concert The Beatles never gave!
These tickets will go on sale to the public online only Saturday, August 11th at 10am and in person or over the phone starting Monday, August 13th.