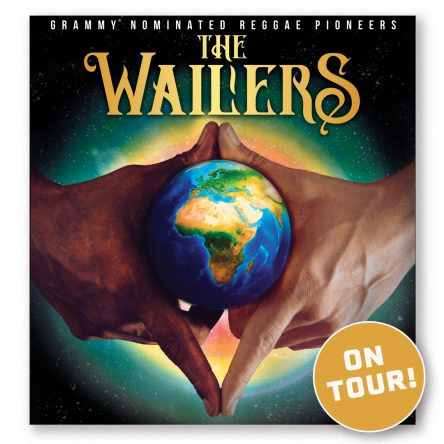 The Wailers
DATE: FRIDAY, OCTOBER 1, 2021 AT 8:00PM
Ticket Price(s):  $40-$60 (Additional fees apply)
Seating Chart – Madame Lieutenant Eleni Kounalakis Theatre (EK Theatre)
Not many bands can claim genuine legend status. The Wailers comfortably claim their place in essential music history. Their music was, and is, culture-defining: rebel hearts with brave souls embodying the spirit of 70s era-defining reggae.
The band play a special set featuring incredible cuts from Bob Marley's formidable back catalogue along with a string of their greatest, classic hits. The Wailers are giving you a chance to be part of the legacy. Aston Barrett Jr, himself reggae royalty as son of the irrepressible 'Familyman', carries the flame for The Wailers in a show that is simply not to be missed.
In late 2020, The Wailers released their first single off the album, "One World, One Prayer", a powerful piece focused on unity, love and inclusion beyond cultural differences. Produced and written by Emilio Estefan, "One World, One Prayer", mixes Jamaican reggae with the sounds of the urban Latin genre. The track features international titan Farruko, Jamaican superstar Shaggy, and continues the legacy of Bob Marley alongside the great man's daughter, Cedella Marley, and her son Skip Marley.
One World, the album that marks the Wailers' return to the recording studios and the band's first album for 25 years, was nominated for a 2021 Grammy® Award in the Best Reggae Album category.
The essence of 70s rebellion, the true spirit of reggae performed by the people who helped forge the era-defining sound and by those raised under their tutelage. Living Legends, Reggae Royalty carrying the flame – now you can be a part of the legacy. When The Wailers come calling, you listen.
Please Note: The City of Tracy (City) and Grand Theatre Center for the Arts (Grand Theatre) follow and comply with applicable federal, state, and county public health and safety guidance, laws, and protocols in response to the COVID-19 pandemic. In the event a public health order is put into effect that limits occupancy or operations, the City and Grand Theatre reserve the right to cancel or postpone any performance. By attending an event at a City facility, you must adhere to the City of Tracy's health and safety standards (as posted or provided) and voluntarily assume all risks related to exposure to COVID-19 (in accordance with California AB 1313 (2020)).
These tickets will go on sale to the public online only Saturday, August 11th at 10am and in person or over the phone starting Monday, August 13th.
Buy Tickets