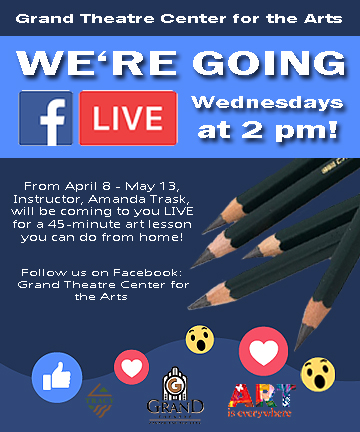 The Grand Theatre Center for the Arts, Arts Education Program presents free online art classes through Facebook Live! Join visual arts instructor and artist Amanda Trask for a virtual art class. Each week starting April 8th, Amanda taught a different topic centered-around drawing. Students at home can follow along using basic art supplies such as paper, pencil and colored pencil.
Check out the videos below to try one of these drawing classes!
Classes are family friendly and appropriate for school age students as well as adults.
The Arts Education Program is pleased to announce the addition of these Facebook Live art classes during this uncertain time. The Grand Theatre Center for the Arts is currently closed to the public until further notice in response to the current health concerns related to COVID-19.
April 8, 2020 Week 1: Fantasy Drawing: Unicorns & Dragons
April 15, 2020 Week 2: Anime/Manga Style Drawing
April 22, 2020 Week 3: Figure Drawing: Faces
April 29, 2020 Week 4: Figure Drawing: Hands & Feet
May 6, 2020 Week 5: Having Fun with Patterns!
May 13, 2020 Week 6: Cartoon Drawing: Animals
Thanks for drawing with us!