The City of Tracy, Arts Education Program announces a new way to learn this year at the Grand Theatre Center for the Arts.  Beginning in fall semester, virtual classes will be offered to provide a safe learning experience for you and your family.
The skilled instructors at the Grand will be teaching classes through the web application ZOOM.  All classes will be accessible online via computer, tablet, or cell phone.  Class registration will begin on August 20, with classes starting September 8.
Registration is available online at www.tracyartsandrec.com and in-person at the Box Office ticketing window during normal business hours.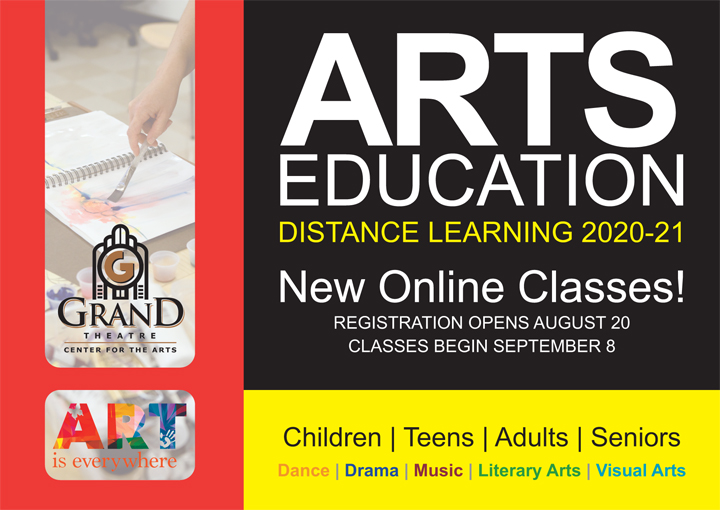 Distance learning classes meet in the comfort of your own home through Zoom. Your Zoom class link will be emailed to you prior to the start of your class. Please make sure the student's email is correct when registering for a class!
Our Fall 2020 semester will include the following Distance Learning classes:
DANCE
Ballet Folklorico – Beginners and Intermediate/Advanced
Movin' Your Groove
Groovin' Fridays   NEW!
DRAMA
Voice Overs… Now is your Time!
MUSIC
Exploring the Guitar
Exploring the Ukulele
Music Together Family Class
Private Music Lessons
LITERARY ARTS
Creative Writing
Essay Writing
VISUAL ARTS
Elementary and Cartoon Drawing
Comic Book Creation   NEW!
Anime/Manga Figure Drawing
Introduction and Intermediate Acrylic Painting
Beginning, Intermediate and Advanced Photography
Knitting for Beginners
Pencil Sketching with Paulette
Paint Night!
updated 8/17/2020