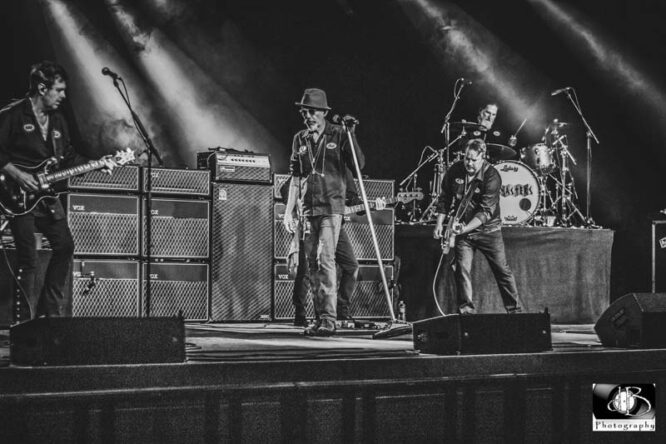 Billy Bob Thornton & The Boxmasters
Buy Tickets
---
DATE: SUNDAY, JUNE 4, 2023 AT 7:00PM
Ticket Price(s):  $25 – $85 (Additional fees apply)
Seating Chart – Madame Lieutenant Governor Eleni Kounalakis Theatre (EK Theatre)
Formed in 2007, The Boxmasters have recorded an impressive and diverse catalogue of music that touches on their love of a wide array of influences, but most importantly, the rock and roll of the 1960's. Listening to The Boxmasters, one can hear obvious odes to the Beatles, Byrds and Beach Boys, but also important to The Boxmasters are The Mothers of Invention, Kris Kristofferson, John Prine and Big Star.
Since forming The Boxmasters, several long-time friends have contributed to the sound of the band, but the core of The Boxmasters has always been JD Andrew and Billy Bob Thornton. As primary songwriters, the sound of the Boxmasters has been an evolution as the duo constantly strive to find new inspiration, new sounds and new ways of expressing what is in their hearts and on their minds. But at the core, there is a backbeat, a lyric with meaning and music played with emotion.
As a touring band, The Boxmasters have cultivated a rabid cult fanbase across the United States and Canada and have opened for the likes of ZZ Top, Steve Miller, George Thorogood and Kid Rock. The Boxmasters performed on "The Grand Ole Opry" in 2015, another in a growing resume of must-play venues.
Find out more at The Boxmasters website.
PLEASE NOTE: THE CITY OF TRACY (CITY) AND GRAND THEATRE CENTER FOR THE ARTS (GRAND THEATRE) FOLLOW AND COMPLY WITH APPLICABLE FEDERAL, STATE, AND COUNTY PUBLIC HEALTH AND SAFETY GUIDANCE, LAWS, AND PROTOCOLS IN RESPONSE TO THE COVID-19 PANDEMIC. IN THE EVENT A PUBLIC HEALTH ORDER IS PUT INTO EFFECT THAT LIMITS OCCUPANCY OR OPERATIONS, THE CITY AND GRAND THEATRE RESERVE THE RIGHT TO CANCEL OR POSTPONE ANY PERFORMANCE. BY ATTENDING AN EVENT AT A CITY FACILITY, YOU MUST ADHERE TO THE CITY OF TRACY'S HEALTH AND SAFETY STANDARDS (AS POSTED OR PROVIDED) AND VOLUNTARILY ASSUME ALL RISKS RELATED TO EXPOSURE TO COVID-19 (IN ACCORDANCE WITH CALIFORNIA AB 1313 (2020)).
These tickets will go on sale to the public online only Saturday, August 11th at 10am and in person or over the phone starting Monday, August 13th.