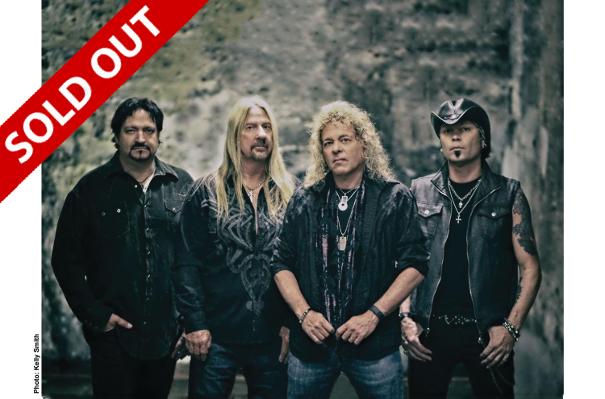 Y&T
The Y&T performance scheduled for Friday, January 7, 2022 has been rescheduled to Friday, February 11, 2022 at 8pm. Your tickets are still valid for the new date.
If you are unable to attend the new date and would like a refund, please email us at boxoffice@cityoftracy.org with your first and last name as well as the best phone number to contact you.  All refunds are final.
DATE: FRIDAY, February 11, 2022 AT 8:00PM
Ticket Price(s):  $30-$45 (Additional fees apply)
Seating Chart – Madame Lieutenant Governor Eleni Kounalakis Theatre (EK Theatre)
Before Mötley Crüe, before RATT, even before there was a Metallica, Y&T was slogging away in sweaty rock clubs around America. When the band formed in the early 1970s, little did they know they would set the standard for hard rock bands that trailed. Many of the biggest acts of the '80s became popular opening for headliners Y&T—and cut their teeth on the band, as evidenced by the Y&T mentions in tell-all books by acts such as Metallica and Mötley Crüe.
Born in Oakland, California, Y&T is one of the San Francisco Bay Area's own innovators of the hard rock sound. Whether performing to a festival crowd of fifty-thousand or in an intimate nightclub, Y&T's high-energy set and passionate performances still captivate legions of fans around the globe, proving Y&T's music timeless.
Please Note: The City of Tracy (City) and Grand Theatre Center for the Arts (Grand Theatre) follow and comply with applicable federal, state, and county public health and safety guidance, laws, and protocols in response to the COVID-19 pandemic. In the event a public health order is put into effect that limits occupancy or operations, the City and Grand Theatre reserve the right to cancel or postpone any performance. By attending an event at a City facility, you must adhere to the City of Tracy's health and safety standards (as posted or provided) and voluntarily assume all risks related to exposure to COVID-19 (in accordance with California AB 1313 (2020)).
These tickets will go on sale to the public online only Saturday, August 11th at 10am and in person or over the phone starting Monday, August 13th.
Buy Tickets