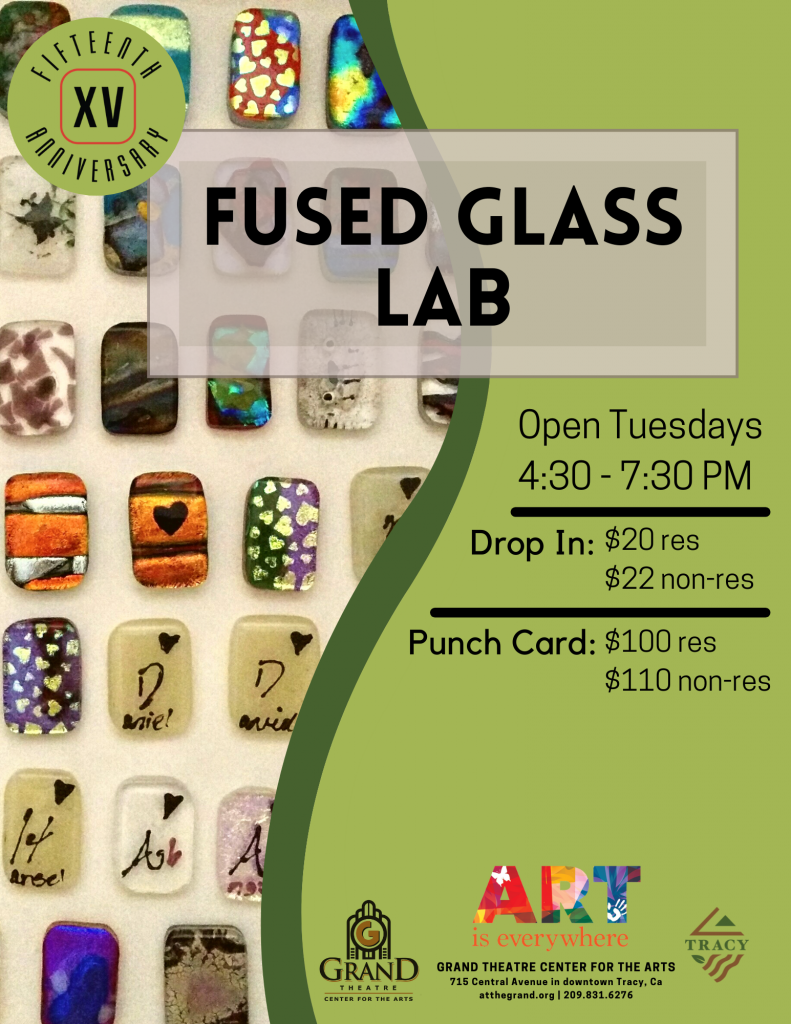 Fused Glass Lab is offered on Tuesday afternoons from 4:30 to 7:30 pm.
Summer 2022 Open Lab Dates:  6/7, 6/14, 6/21, 6/28, 7/5, 7/12, 7/19, 7/26, 8/2, 8/9, 8/16    *No Lab on 8/23, 8/30, 9/6
Fall 2022 Open Lab will resume on 9/13
Students can work independently alongside other artists in the glass studio on Tuesday afternoons! Students should be prepared with their own ideas and projects in mind to work on during this time. No formal teachings will be given. During open lab times, you will have access to a variety of tools such as glass cutters and a glass grinder. Pieces created during open lab times will be fired. You may find that lab can be a calming and playful experience, we look forward to seeing you.
Cost
Drop in for one-day lab access is $20 for residents of Tracy and $22 for non-residents.
We offer a punch card at $100 for residents and $110 for non-residents. With your punch card you will have six entries for the price of five. Punch cards do not expire, and you can use them whenever our fused glass open lab is running.
Glass Available for Purchase
During open lab times, you will have access to a variety of tools such as glass cutters and a glass grinder. Glass materials such as 10 x 10-inch sheets of glass, frit, and stringers are available for sale during open lab times. We offer a variety of glass sheets including opalescent, transparent, and streaky glass. We also have variety of frit available for purchase including powders, fine, coarse, and medium.  Stringers/glass rods are also available in select colors, ranging from 0.5mm to 2mm. Prices range.
Fused Glass Firings
The Grand is pleased to provide slump, tack, and full fused glass firing services to the local arts community. When your piece(s) are ready, please make an appointment to bring your unfired projects to our studio. The cost of firings is dependent on the size and amount of work. We will provide you with a finalized price when pieces are ready for pick up. Please note this special service is contingent on our acceptance of materials to be fired; we reserve the right to reject work that includes paper, metal, or unidentified materials. Please contact the Ceramics Technician for more information about firings and availability.
Studio Technician
For more information about our Fused Glass Open Lab, Fused Glass Classes, and Firing Services, please contact Matt Farnsworth, Ceramics Technician, at matt.farnsworth@cityoftracy.org or (209) 831-6273.