Join our community throughout April and celebrate Tracy Arts Month and California Arts, Culture, & Creativity Month!
In 2019, Arts, Culture and Creativity Month was declared by the California Senate in a concurrent resolution to be every April in California to recognize and celebrate the significant impact the arts have in California. Activations occur throughout the state including city and county proclamations, op-eds, special events, performances, round tables and more. The goal of our month-long campaign is to elevate public awareness of the value of the arts and the collective impact the arts bring to our communities and state.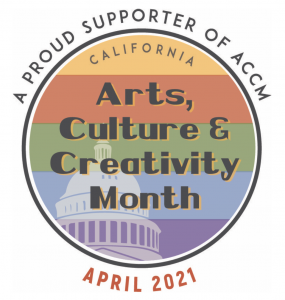 The month of April is our time to celebrate, recognize and advocate for the significant impact we make in California!
#ACCM2021 #ARTSADVOCACY #ARTSAREESSENTIAL #INVESTINARTS #ARTSCREATEIMPACT #CAARTSCHAMPION #RESTARTARTSCA