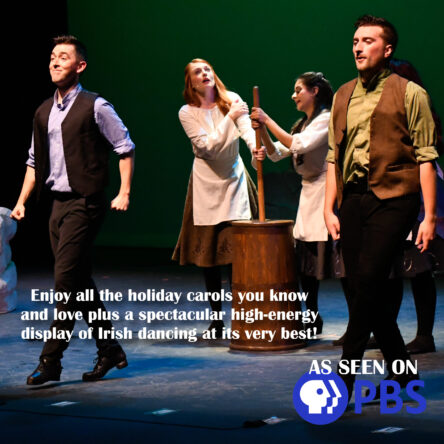 An Irish Christmas
Buy Tickets
---
DATE: Friday, Dec. 15, 2023 at 8:00PM
Ticket Price(s):  $25 – $45 (Additional fees apply)
Seating Chart – Madame Lieutenant Governor Eleni Kounalakis Theatre (EK Theatre)
Experience the joy of An Irish Christmas as seen on PBS! Enjoy all the holiday carols you know and love plus a spectacular high-energy display of Irish dancing at its very best. An Irish Christmas is a celebration of family and community that showcases some of the great Irish holiday traditions and features award-winning dancers from Riverdance, Lord of the Dance and Celtic Wings. Come and be Irish for the Christmas holidays!
An Irish Christmas is conceived, produced, and directed by Margaret O'Carroll owner of Kerry Irish Productions Inc. Central to her work is the forging of the path between the old and the new; incorporating old Irish traditions reflecting various aspects of Irish life into her stage work, creating an unbreakable bond between the old ways and the new – one emerges from the other!
"It is extraordinary how closely connected we are to our past. We are a production of so much that came before us and our traditions are part of that inheritance. There is a value to these traditions. We are craftsmen and craftswomen who carry the stories to the next generation through everyday events such as storytelling, song, music, dance, and our daily rituals. Folk theatre is the protector, the interpreter, the narrator, the pulse, the heartbeat of these traditions." – Margaret O'Carroll
PLEASE NOTE: THE CITY OF TRACY (CITY) AND GRAND THEATRE CENTER FOR THE ARTS (GRAND THEATRE) FOLLOW AND COMPLY WITH APPLICABLE FEDERAL, STATE, AND COUNTY PUBLIC HEALTH AND SAFETY GUIDANCE, LAWS, AND PROTOCOLS IN RESPONSE TO THE COVID-19 PANDEMIC. IN THE EVENT A PUBLIC HEALTH ORDER IS PUT INTO EFFECT THAT LIMITS OCCUPANCY OR OPERATIONS, THE CITY AND GRAND THEATRE RESERVE THE RIGHT TO CANCEL OR POSTPONE ANY PERFORMANCE. BY ATTENDING AN EVENT AT A CITY FACILITY, YOU MUST ADHERE TO THE CITY OF TRACY'S HEALTH AND SAFETY STANDARDS (AS POSTED OR PROVIDED) AND VOLUNTARILY ASSUME ALL RISKS RELATED TO EXPOSURE TO COVID-19 (IN ACCORDANCE WITH CALIFORNIA AB 1313 (2020)).
These tickets will go on sale to the public online only Saturday, August 11th at 10am and in person or over the phone starting Monday, August 13th.