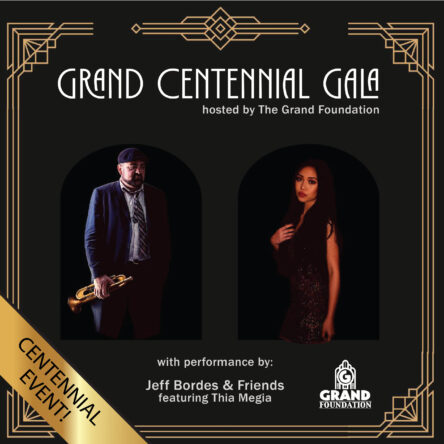 The Grand Centennial Gala
Buy Tickets
---
Hosted by The Grand Foundation
DATE: Saturday, Sept. 23, 2023 at 6:00PM
Ticket Price(s):  $100 (Additional fees apply)
Dress up in your finest attire, for a once-in-a-lifetime night celebrating the 100th Anniversary of the Grand Theatre at the Grand Centennial Gala hosted by the Grand Foundation. Champagne will be flowing, guests will have the opportunity to bid on one-of-a-kind works of art, and are invited to become part of the Grand for the life of the theatre. The evening will include art, entertainment, and giving. The Grand Foundation will be raising funds to restore the terrazzo and tilework at the entrance of the theatre, and replicate the lighting installed in 1941. Patrons who help fund these projects will be acknowledged on the Grand Foundation recognition wall within the main lobby of the Grand. Join us and our special guest, Jeff Bordes & Friends featuring Thia Megia, for this event!
Jeff Bordes is a true seasoned pro who has been "spreading the word of jazz" throughout the world. A true jazz veteran, he has been playing since the early years and continues to change the face of jazz!
PLEASE NOTE: THE CITY OF TRACY (CITY) AND GRAND THEATRE CENTER FOR THE ARTS (GRAND THEATRE) FOLLOW AND COMPLY WITH APPLICABLE FEDERAL, STATE, AND COUNTY PUBLIC HEALTH AND SAFETY GUIDANCE, LAWS, AND PROTOCOLS IN RESPONSE TO THE COVID-19 PANDEMIC. IN THE EVENT A PUBLIC HEALTH ORDER IS PUT INTO EFFECT THAT LIMITS OCCUPANCY OR OPERATIONS, THE CITY AND GRAND THEATRE RESERVE THE RIGHT TO CANCEL OR POSTPONE ANY PERFORMANCE. BY ATTENDING AN EVENT AT A CITY FACILITY, YOU MUST ADHERE TO THE CITY OF TRACY'S HEALTH AND SAFETY STANDARDS (AS POSTED OR PROVIDED) AND VOLUNTARILY ASSUME ALL RISKS RELATED TO EXPOSURE TO COVID-19 (IN ACCORDANCE WITH CALIFORNIA AB 1313 (2020)).
These tickets will go on sale to the public online only Saturday, August 11th at 10am and in person or over the phone starting Monday, August 13th.