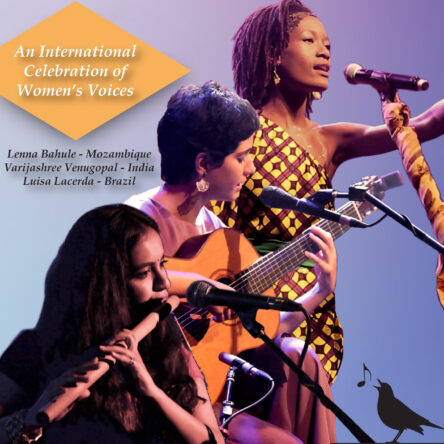 Lyric & Spirit
Buy Tickets
---
DATE: Sunday, Oct. 22, 2023 at 7:00PM
Ticket Price(s):  $20 – $39 (Additional fees apply)
Seating Chart – Madame Lieutenant Governor Eleni Kounalakis Theatre (EK Theatre)
Bringing together female singers from around the world, Lyric & Spirit, is an international celebration of women's voices. Each artist will be performing a solo set, followed by collaborations showcasing a blending of their global cultures. The Fall 2023 inaugural American Tour features Lenna Bahule from Mozembique; Varijashree Venugopal from India; and Luísa Lacerda from Brazil.
Lenna Bahule, whose repertoire focuses on vocal expressions from the indigenous culture of Mozambique and surround areas. Varijashree Venugopal, who uses traditional classical music and uniquely blends the sound with other genres. Luísa Lacerda works in the production of her own shows, disseminating innovative work, with emphasis on the dissemination of songs by new composers of the contemporary scene.
PLEASE NOTE: THE CITY OF TRACY (CITY) AND GRAND THEATRE CENTER FOR THE ARTS (GRAND THEATRE) FOLLOW AND COMPLY WITH APPLICABLE FEDERAL, STATE, AND COUNTY PUBLIC HEALTH AND SAFETY GUIDANCE, LAWS, AND PROTOCOLS IN RESPONSE TO THE COVID-19 PANDEMIC. IN THE EVENT A PUBLIC HEALTH ORDER IS PUT INTO EFFECT THAT LIMITS OCCUPANCY OR OPERATIONS, THE CITY AND GRAND THEATRE RESERVE THE RIGHT TO CANCEL OR POSTPONE ANY PERFORMANCE. BY ATTENDING AN EVENT AT A CITY FACILITY, YOU MUST ADHERE TO THE CITY OF TRACY'S HEALTH AND SAFETY STANDARDS (AS POSTED OR PROVIDED) AND VOLUNTARILY ASSUME ALL RISKS RELATED TO EXPOSURE TO COVID-19 (IN ACCORDANCE WITH CALIFORNIA AB 1313 (2020)).
These tickets will go on sale to the public online only Saturday, August 11th at 10am and in person or over the phone starting Monday, August 13th.