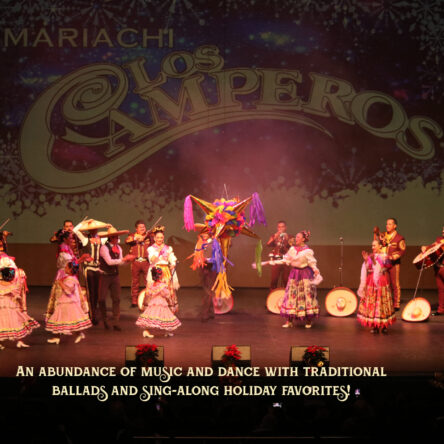 Mariachi Los Camperos: Fiesta Navidad
Buy Tickets
---
DATE: Saturday, Dec. 16, 2023 at 4:00PM & 7:30PM
Ticket Price(s):  $30 – $60 (Additional fees apply)
Seating Chart – Madame Lieutenant Governor Eleni Kounalakis Theatre (EK Theatre)
This popular festive and joyous holiday performance, celebrates and honors the unique cultural traditions of Mexico. Mariachi Los Camperos is led by Jesus "Chuy" Guzman and the ensemble is considered one of the finest in the world. The ensemble will bring the pageantry and excitement of Mexican holiday customs to life, beginning with a re-enactment of La Posada. An abundance of music and dance with traditional ballads, as well as, sing-along holiday favorites, makes this a perfect holiday show for the whole family.
Los Angeles–based Mariachi Los Camperos' abundant accolades, including multiple Grammy® awards and nominations and highly praised performances on premier concert stages such as Lincoln Center, the Kennedy Center, Walt Disney Concert Hall and the Getty Center, can easily obscure the fact that its leaders come from humble roots, deep within a mariachi tradition shaped by family and community. The group's founder, Nati Cano, was a third-generation mariachi musician from the small town of Ahuisculco in the west Mexican state of Jalisco. From 1961 to his death in 2014, he lived his dream, forging his own group from his artistic vision and determination. Over his musical career, he challenged the attitudes that, during his youth in Mexico, led formally trained musical peers to look down on his beloved rural and working-class music. In the United States, he worked against class and racial prejudice that relegated Mexicans and their music to second-class status. In the end, he succeeded both socially and artistically, as borne out by the group's and his own many honors and performances in prestigious venues across the United States and Mexico.
In the words of Jesús "Chuy" Guzmán, his disciple and successor as Camperos leader, "He wanted to have a mariachi that would have dignity, that would have heart, that would have soul, and he made Los Camperos."
Today, Chuy Guzmán leads the Camperos legacy, providing the vision for its sound and repertoire. He continues Cano's legacy of teaching the tradition throughout the United States and parts of Latin America. Chuy Guzmán is living his dream, and he is dreaming ever bigger. Looking back on his career, he says, "I'm not going to tell you that the work was easy, but… I feel good about what has happened in my life, in my path as a musician." Looking ahead, he adds, "There's still a lot to do… My dream will come to an end when I am gone."
PLEASE NOTE: THE CITY OF TRACY (CITY) AND GRAND THEATRE CENTER FOR THE ARTS (GRAND THEATRE) FOLLOW AND COMPLY WITH APPLICABLE FEDERAL, STATE, AND COUNTY PUBLIC HEALTH AND SAFETY GUIDANCE, LAWS, AND PROTOCOLS IN RESPONSE TO THE COVID-19 PANDEMIC. IN THE EVENT A PUBLIC HEALTH ORDER IS PUT INTO EFFECT THAT LIMITS OCCUPANCY OR OPERATIONS, THE CITY AND GRAND THEATRE RESERVE THE RIGHT TO CANCEL OR POSTPONE ANY PERFORMANCE. BY ATTENDING AN EVENT AT A CITY FACILITY, YOU MUST ADHERE TO THE CITY OF TRACY'S HEALTH AND SAFETY STANDARDS (AS POSTED OR PROVIDED) AND VOLUNTARILY ASSUME ALL RISKS RELATED TO EXPOSURE TO COVID-19 (IN ACCORDANCE WITH CALIFORNIA AB 1313 (2020)).
These tickets will go on sale to the public online only Saturday, August 11th at 10am and in person or over the phone starting Monday, August 13th.