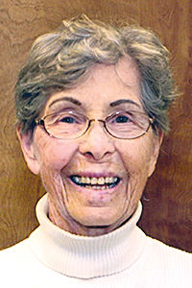 Gretchen Talley was a long time, celebrated community leader and activist, and one of Tracy's quintessential arts and education supporters.  Her decades of remarkable community involvement included St. Bernard's Mothers Guild, Tracy Joint Union High School District, San Joaquin County Board of Education, THS Parent Advisory Committee and Band Boosters, Tracy Parks & Recreation Commission, Tracy Tennis Club, San Joaquin County Bike Task Force, Tracy Friends of the Stockton Symphony and numerous other organizations.
Ms. Talley was also a Board Member of the Arts Leadership Alliance (now Grand Foundation) who worked in collaboration with the City of Tracy in the development of the Grand Theatre Center for the Arts.  For many years after the Grand opened, Gretchen would enthusiastically attend events and promote the Center, as well as consistently offer kind words of support to the Staff.  Her sincere efforts were always appreciated and she will be greatly missed.
Additional details about Gretchen's impressive life has been recently documented in the Tracy Press.