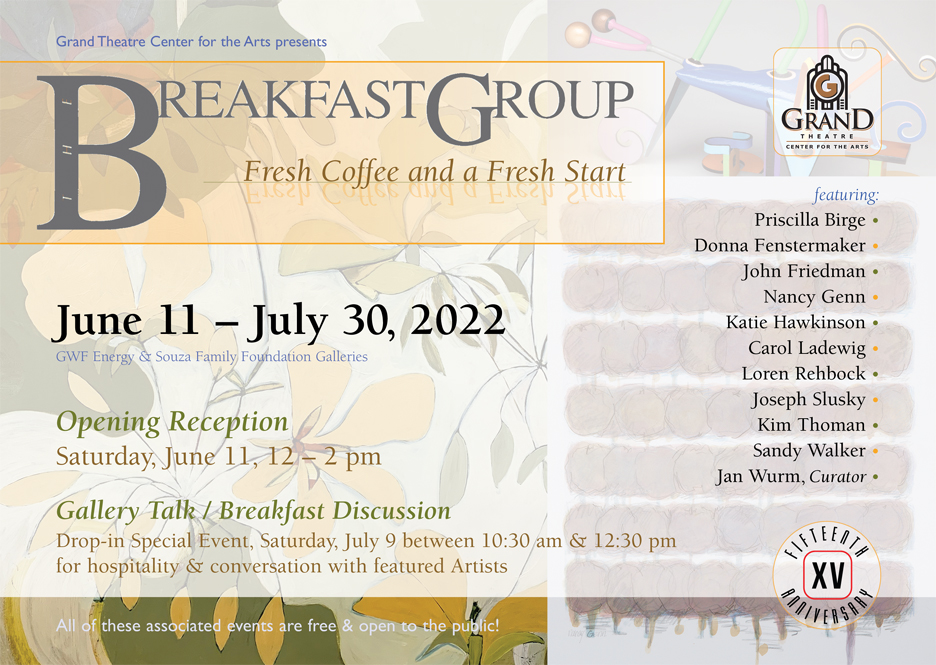 Fresh Coffee and a Fresh Start is a group exhibition by the Bay Area collective, The Breakfast Group, featuring works by Priscilla Birge, Donna Fenstermaker, John Friedman, Nancy Genn, Katie Hawkinson, Carol Ladewig, Loren Rehbock, Joseph Slusky, Kim Thoman, Sandy Walker, and Jan Wurm. The exhibition is curated by Jan Wurm.
The Breakfast Group was born in the Sixties of a group of artists teaching at the University of California at Berkeley, who began meeting every week to discuss art, teaching, and individual pursuits. As coffee flowed, so did the conversation, extending to film, politics, and naturally sports. For over 50 years the venue and members have changed, but the association has remained the importance of mutual support and encouragement. From diverse artistic practices and philosophical perspectives, the members of The Breakfast Group have shared a sense of purpose as artists in a complex relationship to contemporary society.
The Breakfast Group artists share a long tradition of weekly gatherings for conversations: art talk, sports stats, teaching, and art world adventures fueled by morning coffee. Working through a long pandemic sheltering, interspersed with virtual exhibitions and Zoom events, the Breakfast Group is bringing paintings, drawings, sculpture, and photography to Tracy, as well as inviting and encouraging creatives to join them in their practice.
Jan Wurm states: "These long pandemic months have seen time warp, melt, and then rush by. But through this shifting framework, The Breakfast Group artists have kept working, finding meaning and expression in the studio. The Breakfast Group has held tight to the binding ties of the past and remained open to the promise of the future. Art is a language that cannot be unlearned and this is a conversation that continues to unfold at the Grand Theatre Center for the Arts for fresh coffee and a fresh start."
---