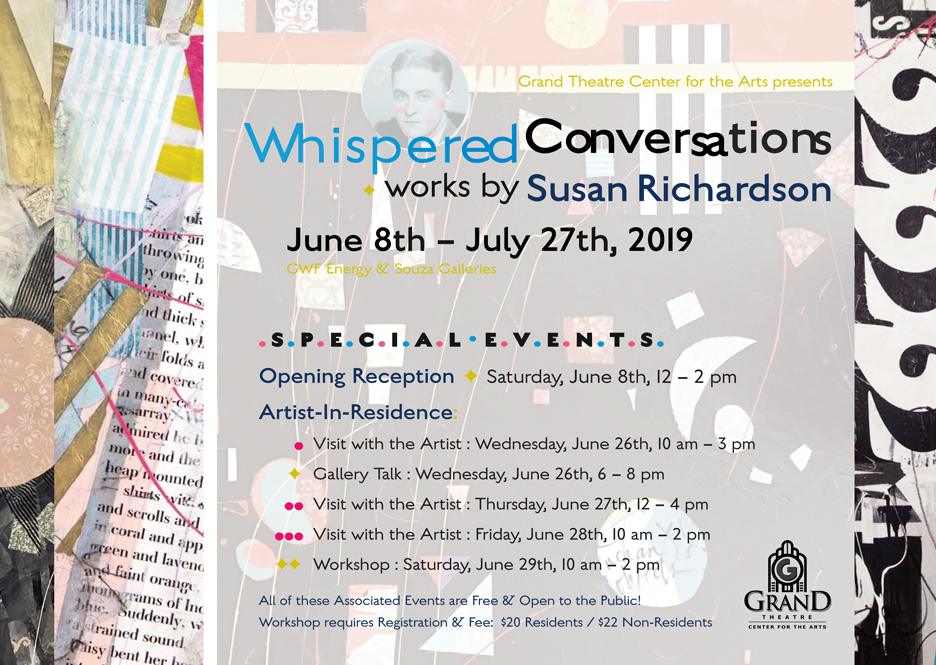 Whispered Coversations is an exhibit inspired by the classic literature of F. Scott Fitzgerald (1896 – 1940 • American Fiction
Writer) including The Great Gatsby and Tender is the Night.  The artworks featured are composed of complex layers combining hand-lettering and printed text with painting and collage, reflecting universal stories and the emotions of life.  The Grand invites the public to meet and interact with Ms. Richardson as she works in our community this summer as Artist-In-Residence.  Across four days in June, Susan will be working in the Grand Galleries where the community-at-large is welcome to drop-in, converse, and observe the artist at work. At the end of the week, Susan will teach a hands-on Workshop inside of the current exhibition.
Susan Richardson is a Tracy educator, poet, and mixed-media artist working in calligraphy, letterform, printmaking, and artist's books.  Ms. Richardson holds a B.A. from Simmons College in Boston, M.A. in English Education from Boise State University, Ph.D. in Education in Language and Literacy from U.C. Berkeley, and Post Baccalaureate Certificate in Visual Arts from U.C. Berkeley Extension. She has been exhibiting professionally for 14 years, and previously curated Transforming the Written Word, a feature exhibition presented at the Grand in 2014.
"I have always felt a deep connection to works by F. Scott Fitzgerald. The Great Gatsby offers a poignant look deep inside the sparkling world of luxury, glamorous parties, and beautiful people.  And yet, under all that sparkle flows an undercurrent of longing — longing for something meaningful, something just out of reach.  My work is a 21st Century response to Fitzgerald's jazz-age world.  The layers are complex; some are bold, some delicate, and some reveal deeper layers. Like life, each piece displays a messy richness and a thoughtful, underlying harmony." – Susan Richardson

---