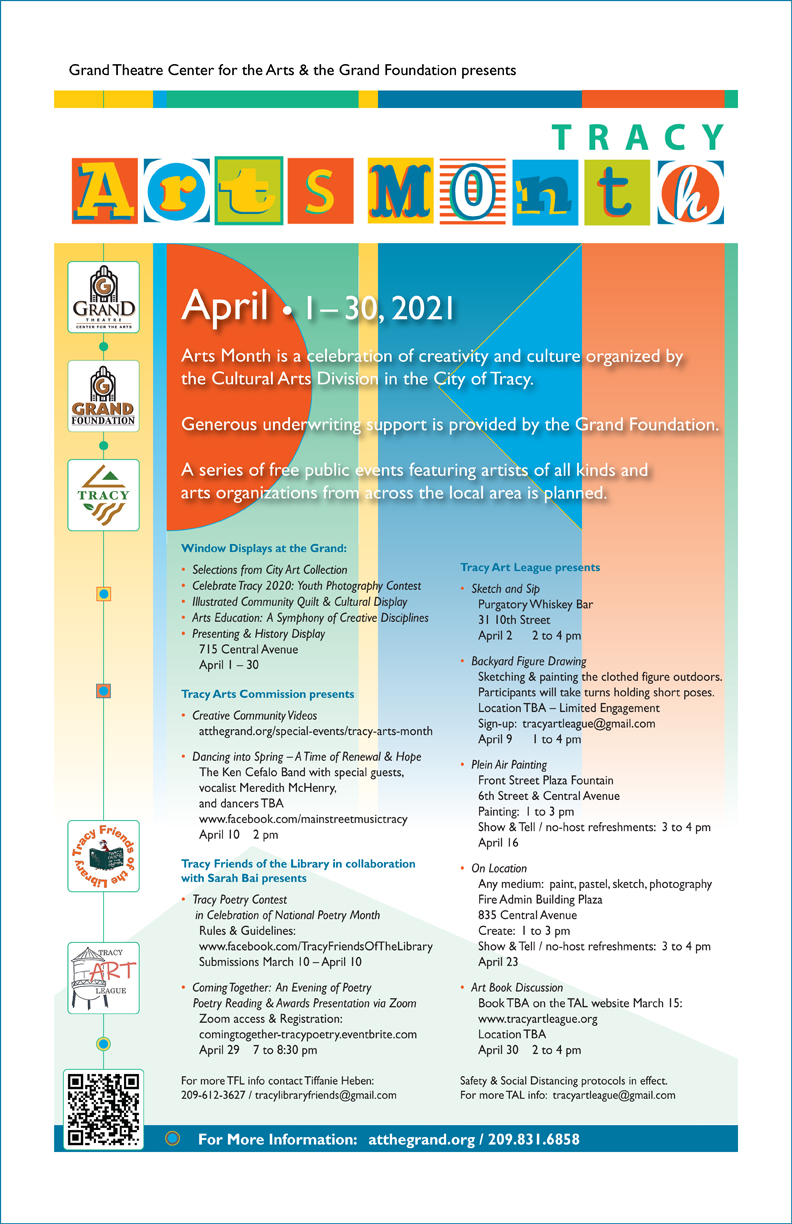 Event Details:
The windows across the Galleries at the Grand will frame a several interesting displays.  The Exhibitions Programs presents a compelling group of works from the City Art Collection across the windows of the GWF Energy Gallery. Featured in the exhibit is the debut of a portrait in honor of Leona Darr Willis, a founding patron of the Grand's revival, by Tracy artist Gayle Knize. The Grand Foundation will display the award winners from the Celebrate Tracy 2020:  Youth Photography Contest & Exhibit.
The Souza Gallery will host an illustrated community quilt and cultural display, and the South Gallery will include a celebration of the Grand's Presenting Program and History.  Also in the South Gallery, the Arts Education Program playfully reveals an eye catching display of color, A Symphony of Creative Disciplines. Take a peek at our current Contract Instructors' work while enjoying this splashy installation!
The Tracy Arts Commission presents a collection of Creative Community Videos.  These short, promotional and educational videos can be viewed throughout the month.  In addition the TAC will offer a virtual concert, Dancing into Spring – A Time of Renewal and Hope.  This unique performance features The Ken Cefalo Band with special guests, vocalist Meredith McHenry.  Bringing together jazz, pop, and dance, Ken and friends will perform their version of jazz and pop favorites.  Join us for this mid-day performance to celebrate the arrival of Spring on April 10th at 2 pm:  view the concert here!
Poets can enter the Tracy Poetry Contest in celebration of National Poetry Month, presented by Tracy Friends of the Library in collaboration with Sarah Bai.  Submissions are being accepted through April 10 online at facebook.com/TracyFriendsOfTheLibrary.  Coming Together:  An Evening of Poetry – Poetry Reading & Awards Presentation will be held on April 29 via Zoom.  The talented poets of Tracy will be celebrated with readings by the contest winners and an awards ceremony. Visit comingtogether-tracypoetry.eventbrite.com, or contact the Tiffanie Heben at (209)612-3627 / tracylibraryfriends@gmail.com for additional information and registration.
Visual artists can enjoy a series of five events presented by the Tracy Art League. Opportunities to create art and share it with others include Sketch and Sip at Purgatory Whiskey Bar on April 2, Backyard Figure Drawing on April 9, Plein Air Painting at the Front Street Plaza on April 16, On Location art making (drawing, painting, pastel, photography, etc.) at the Fire Admin Building Plaza on April 23, and an Art Book Discussion on April 30.  Safety and social distancing protocols will be in effect.  For additional information and figure drawing registration, contact the TAL at tracyartleague@gmail.com.