The South San Joaquin Fire Authority recognizes educating others on fire safety is important year round. With this mind and in recognition of the most recent Fire Prevention Week, the SSJFA continues their public education efforts. The SSJCFA Poster Contest has been developed to educate children on fire safety. The contest is open to all Kindergarten to 5th Grade students in the City of Tracy and surrounding areas.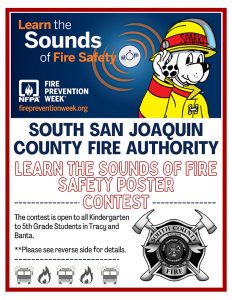 About Fire Prevention Week (courtesy of the National Fire Protection Association)
Since 1922, the NFPA has sponsored the public observance of Fire Prevention Week. In 1925, President Calvin Coolidge proclaimed Fire Prevention Week a national observance, making it the longest-running public health observance in our country. During Fire Prevention Week, children, adults, and teachers learn how to stay safe in case of a fire. Firefighters provide lifesaving public education in an effort to drastically decrease casualties caused by fires.